Whyte vs Parker: Points verdict for New Zealander

For a heavyweight improving at the same rate his reputation is growing, Dillian Whyte is taking a significant risk by fighting Joseph Parker on Saturday.
Similar things could be said of New Zealand's Parker, until earlier this year the undefeated WBO champion.
Beyond the two reigning heavyweight champions Anthony Joshua and Deontay Wilder, it could even be argued that Whyte and Parker are the world's two leading heavyweights, so while Saturday's at London's 02 Arena represents a fine fight, it also means that the loser will have suffered a damaging defeat.
Whyte vs Parker Betting Tip
Both are already well-placed for rematches with Joshua, and while victory would take them closer to that - or potentially earn them a shot at Wilder and the WBC title, particularly should he not fight Joshua in April 2019 - their second professional defeats would force them to rebuild at a time further rivals, including Tyson Fury, are expected to move into contention.
The 30-year-old Whyte will be fighting his most accomplished opponent; when he lost to Joshua for the British and Commonwealth titles in December 2015, his great rival remained raw and inexperienced.
It was Parker, 26, who most recently fought Joshua, when becoming the first to take him the distance in March and justifying his reputation as a world-class heavyweight.
His best victories, over Hughie Fury, Andy Ruiz Jnr, Alexander Dimitrenko and Carlos Takam also surpass Whyte's, a stoppage of Lucas Browne and a controversial decision over Dereck Chisora.
Whyte has so far proved fearless, and produced his most impressive performances against his most dangerous opponents.
He possesses perhaps the world's finest chin, but unless he can force Parker into a brawl he could struggle to impose himself against the more polished fighter.
In his defeat by Joshua, Parker demonstrated both composure and a rounded skill-set while fighting largely on the back foot in an attempt to nullify Joshua's considerable power.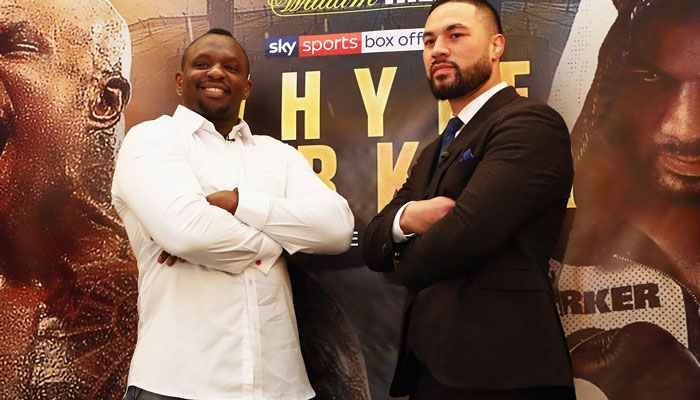 Whyte's power is also far from as threatening as Joshua's, and he also possesses inferior size and speed.
If the biggest criticism of Parker against Joshua was that he fought with a lack of ambition and was content to survive despite having greater potential, Whyte could struggle on Saturday.
Only fighting too negative a fight, a significant under-performance or a hometown decision from the judges should stop him out-boxing the tough, resilient Whyte and securing a unanimous decision that will lead to an eventual rematch with Joshua. Parker winning on points at 11/8 therefore represents good value.
Mega Traders' Tip - View from the trading floor
Had Joseph Parker beaten or even looked like beating Anthony Joshua at any stage when the pair met in London just under four months ago it's highly unlikely this fight would have been made.
While Joshua failed to KO him in the same fashion as he did Whyte at the back-end of 2015, it was still a commanding display from Joshua which left a lot of boxing fans scratching their heads with regards to Parker being a legitimate challenger in the heavyweight division.
He now steps down a grade and away from challenging for top-end titles, and faces an imposing and aggressive opponent in Dillian Whyte who himself has done nothing but progress since he was KO'd in the seventh round against an emerging world champion in Joshua that night in London.
Whyte comes in here yet again as the underdog, however it's a title he openly admits revelling upon as he looks to upset Parker and possibly put an end to his near-perfect career at least at the top of the heavyweight division anyway.
Betting markets have been vibrant in the lead up to this fight and with a fairly stacked undercard it should be a good night of sport.
Parker has been, and rightly so, favourite since the markets opened as he has fought at more elite levels than Whyte has over the past few years of his career.
Both men possess KO power as we have seen, however expect caution here as this fight could define the winners' career and neither man will be rushing in for the knockout too early.
A points victory is likely, and Joseph Parker's class should be enough to see him through this bout and possibly put his name back in the hat for an AJ rematch at some stage in the future.