Q&A: Andrei Kanchelskis on derbies, Scottish football and the World Cup

Andrei Kanchelskis played and scored in both the Merseyside and Manchester derbies during his time in England with Everton and Manchester United, with whom he won two Premier League titles, the FA Cup and seven trophies in all at Old Trafford.
He moved north of the border to join Rangers in 1998, winning two Scottish Premier League championships and three Scottish Cups.
Ahead of derby day in the Premier League, BetStars News spoke to the former Russia international about his thoughts on the games, the state of Scottish football and the World Cup in his homeland.
Merseyside derby
You famously scored twice in a Merseyside derby at the Kop end, how did that feel?
"Yeah it was a great time, we won the game which was the most important thing for the team and the fans. It's very difficult to play an away derby game, especially at Anfield. I remember the game, everybody was happy to win at Anfield. It was a great moment which I will always remember."
Is scoring in that game more special than in other games?
"A derby is a derby. Every derby is a difficult but special game. There's a lot of frustration and passion, and lots of tackles. I feel very, very lucky to have scored goals in such an important derby game. It was very good for me and for the team. No matter who scores, it's very important to get three points especially at Anfield in the Merseyside derby. I loved playing in the Merseyside derby and to score three times against Liverpool was a great feeling that I will always remember."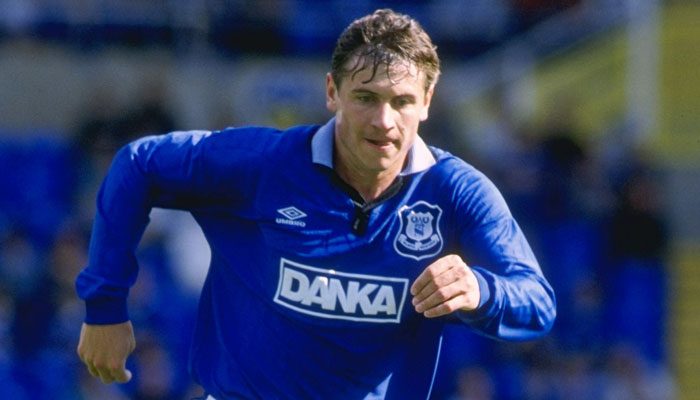 Do you feel like you raised your game during those derbies? Is that why you performed so well in them?
"Everybody was always concentrating more in those games. There was more concentration in derbies. Everybody is thinking about a derby all week. I feel very lucky to have scored against Liverpool."
Do you think Everton can get a result?
"It's an important game at Goodison Park for the fans so I hope so. I think Everton have a very good chance because Liverpool are concentrating more on the Champions League, especially playing on Wednesday against Man City. It's a good chance for Everton. I know how much it means to the fans when Everton win against Liverpool.
"Liverpool are a good team, they play very good football. It's a derby, it's a special game and different to any other game. I hope for the fans that Everton can get something out of the game."
Do you think Sam Allardyce was the right appointment for Everton? Will he be there next season?
"It was a decision made by the directors and the chairman. I know the fans aren't happy and they've been very critical of him, but I think he needs another season to make more changes. I know what the directors are like but let's see what happens at the end of the season."
Do you think your former team-mates David Unsworth or Duncan Ferguson would suit the role as Everton manager?
"Yes, I don't understand why the directors and chairman didn't consider them as a permanent option for the role. I don't understand why they didn't keep Unsworth until the end of the season and then after see what happens."
Everton aren't performing as well as they have done in previous seasons this year. Do you share the fans' frustration?
"Yes, it was a very bad start to the season and the players didn't have very good fitness. I know it's frustrating but next season is a new season and let's see what happens."
Where do you think Everton need to strengthen this summer to have a better season?
"They need to spend money on a couple of good forwards to replace [Romelu] Lukaku. They also need some good wingers like myself! I've watched a couple of games and I don't understand what system they play. They don't play with wingers and they have too many players in the middle of the pitch. They have too many players in defence. It depends who's coaching them next season. If Big Sam stays then maybe he'll play with the same tactics."
Everton have been linked with Jack Wilshere and Phil Jones, do you think they would be good players for Everton?
"Yes of course they need some new players in the team. If you buy some quality players like Wilshere and Jones then you have a good chance to reach top five, top six in the league and these players will help. We need some new fresh blood in the squad."
Do you think Everton have got enough this season to make the Europa League places?
"Yes, they have a chance. They need to be more consistent, at times they have played very well and then played very badly. If Everton make the European places it will be good for the club and fans. The fans want to see a new style of football when teams come to play at Goodison Park from across Europe. It's good for the club and the money as well. It's important for the team and important for the directors, for the players and for the fans."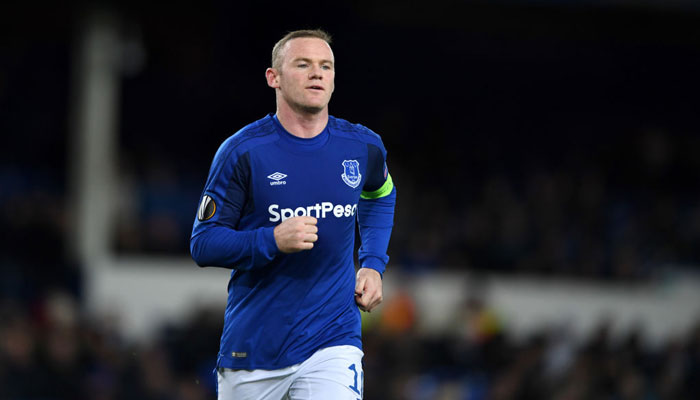 Who has been Everton's best signing?
"In my opinion, Wayne Rooney and Jordan Pickford have been the two best signings this season, they are the two best players at Everton."
Is Jordan Pickford England's best goalkeeper?
"Yes, of all the English goalkeepers I think Jordan Pickford is the best."
Will Rooney still be at Everton next season?
"He's in good form and he's a good player, so why not? He's an important player for Everton, as he was at Manchester United even when he wasn't playing too many games in the first team. He's an Evertonian, born in Liverpool, so he's an important player to have in the dressing room - why not stay one more season?"
Manchester derby
How will Jose Mourinho motivate his players for a game where they have much to lose but little to gain?
"They're second in the table and it's a good chance to win a game against Manchester City. City have a lot of games to play with the Champions League ties, and Manchester United know City will win the title if they win against them, which will be very bad for the clubs and the fans, especially for the fans. Hopefully Manchester United can win the game and stop Manchester City."
Will it hurt Mourinho's pride if they lose the title in the game against City?
"Yes, it will hurt him to lose, because it is a derby against Manchester City, it will be a very interesting game. Being out of the Champions League will have hurt them because they are a big club, so they won't want to lose this game."
Will Paul Pogba stay at Manchester United next season?
"I don't know if Pogba will stay - he's a good player but is very inconsistent, sometimes he plays well and other times he doesn't play well at all. I don't know if he will stay, it depends on which players Manchester United buy in the summer. They need to make changes ahead of next season. Pogba will need to play more next season, if he were playing under Sir Alex Ferguson he would definitely be playing more as they played more attacking football."
Who is Manchester City's most important player?
"Kevin De Bruyne is an excellent player, with excellent passing. He is the most important player for Manchester City."
How far will Manchester City go in the Champions League this season?
"We will have to see what happens in the games against Liverpool, there are many good teams still in the competition like Barcelona, Real Madrid and Bayern Munich, as well as Liverpool. I think Bayern Munich are the best team and I think they will win the Champions League."
Do you see any similarities between Jose Mourinho and Sir Alex Ferguson?
"No, they're from two completely different schools. They're very different coaches with different mentalities, Mourinho is Portuguese and they have a different system of playing, and of course Ferguson was the best."
Who will finish higher next season, Manchester United or Manchester City?
"It depends - if Manchester United buy new players, more attacking players with a new system of playing, they may finish higher. Manchester City are a stronger team who play better football now. If next season, after the World Cup, Manchester United buy new, fresh, quality players then they could be champions."
Obviously you played alongside Ryan Giggs and he's just been announced as the Wales manager. How do you think he will do?
"Ryan had an excellent time with Manchester, he's a nice person. I hope Ryan can do good work with the national team. I'm rooting for him."
Do you think the Manchester derby has changed since you were playing?
"Yes of course! It's a big change, Man City has kept growing, it has better players, a better team and a lot more money to buy quality players. Of course, it's a different derby if I'm being honest because in my time playing it was the bottom of the league table against the top, now it's completely different. It's good for the city of Manchester and the fans that both Manchester teams are on top in the Premier League."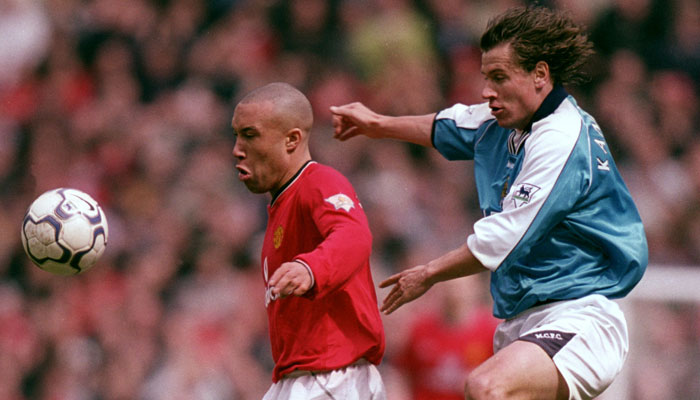 Scottish football
Obviously Celtic are running away with the league this year, what do Rangers have to do to get to Celtic's level?
"I've been watching Scottish football quite a lot this year. Of course Celtic are now dominating, as they have a much better team with quality players. Rangers need a couple of years, two or three more years and they will be at the same level as Celtic. Obviously, it took them a few years to get back to the SPFL winning back-to-back promotions so it will just take some time for them to reach the levels they were at before."
What do you make of Graeme Murty as the manager of Rangers? Will he still be there next season?
"Yes, he should definitely stay, he is doing well but he needs time, he can't perform magic or quickly change the team so that it's winning titles, it is part of a process and will take some time for him to work with the team. He should stay at least another year."
What was Jonatan Johansson like as a player? Would he make a good manager?
"He was a very good attacking player and I think he can be a good manager. I hope he stays at Rangers next season as he has a lot to offer as a coach."
Could Jonatan Johansson make a good manager?
"Yes I believe he is a future manager. He is a very good assistant coach at the moment and he is more than capable of progressing to become a manager. It's difficult to make the step up from assistant manager to manager but he is a good coach and he will be able to do it, should the opportunity arise."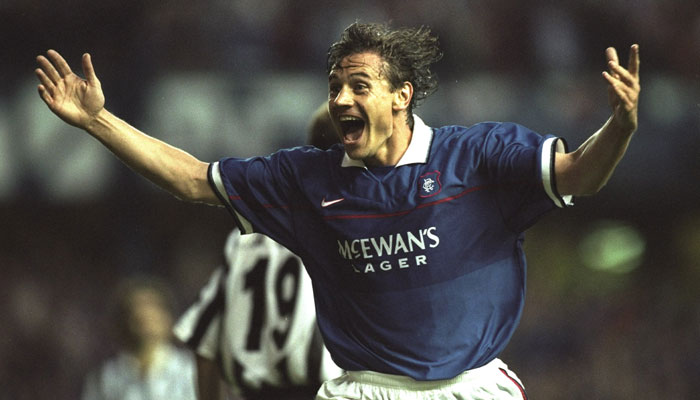 Who was the best player you played with at Rangers?
"There are so many players - I played with too many great players to name just one. But Stefan Klos was a fantastic player. Every good team needs a great goalkeeper behind them and Klos was fantastic for Rangers."
World Cup
How important is it for Russia to put on a great World Cup?
"Every World Cup is important. It's the chance to showcase the best footballers in the world in front of every football fan in the world. It's important for everyone to have a good World Cup."
How far can England go in the World Cup?
"England have some young, promising players from some very good teams. They have a chance because they have quality players in their squad."
How important is Harry Kane to England?
"He's a great striker, a great player and a goalscorer. He is of course very important and I'm very pleased for him with how well he has done."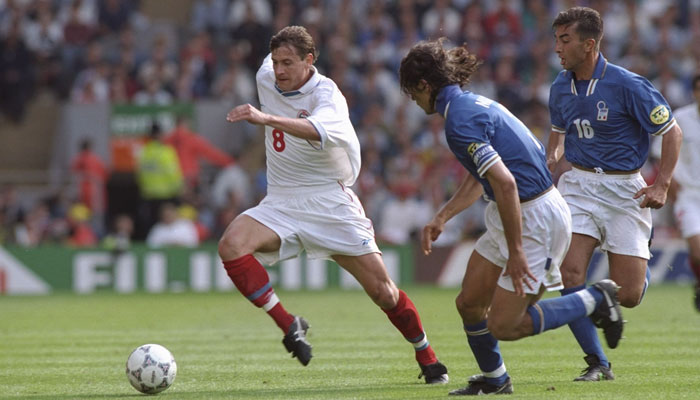 Would you swap your Premier League titles for World Cup success - is the World Cup important for a player?
"Of course it is important for players as it is the World Cup! It is still very important, just look at the significance of the 1966 victory for England, that's what makes the fans happy."
Should Wayne Rooney still be in the England squad?
"Yes, I think so, he would be an important player in any team. It's like when I played at Manchester United with Bryan Robson, it's like having a second coach and they help the team a lot."
Who will be England's most influential player at the World Cup?
"There are a lot of good players like [Dele] Alli, Kane - England have a lot of quality players now. They have young players and if you're a young player coming into the squad then you can provide a bit of freshness to a team that hasn't won anything for many years. They have great players so we will see what happens."
80 Minute Free Bet offer - We're refunding your stake as a Free Bet up to $/£20 if a goal after 80:00 turns a winning Match Result bet into a loser on all Premier League, Champions League and Europa League matches. Min odds 1/2 (1.5). T&C's apply.
Click here for more football previews