Analysis: Where is the value in the Premier League win and BTTS market?

When backing a particular result or goalscorer doesn't offer sufficient value, many turn to the both teams to score (BTTS) market to find more attractive odds.
To help bettors gain an edge here, we've looked back at the last five seasons of the Premier League to identify which types of fixtures tend to see both teams find the net. We've broken matches into categories based on the relative strength of the two teams involved, using their eventual finishing position in the table.
Top five clubs at home
To begin with, let's look at matches where a top-five club was at home and divide these up by whether they secured a victory, drew or tasted defeat. As you would expect, the hosts tend to fare well in these situations - even against another big gun - with almost half of matches between top five clubs ending in a win for the hosts.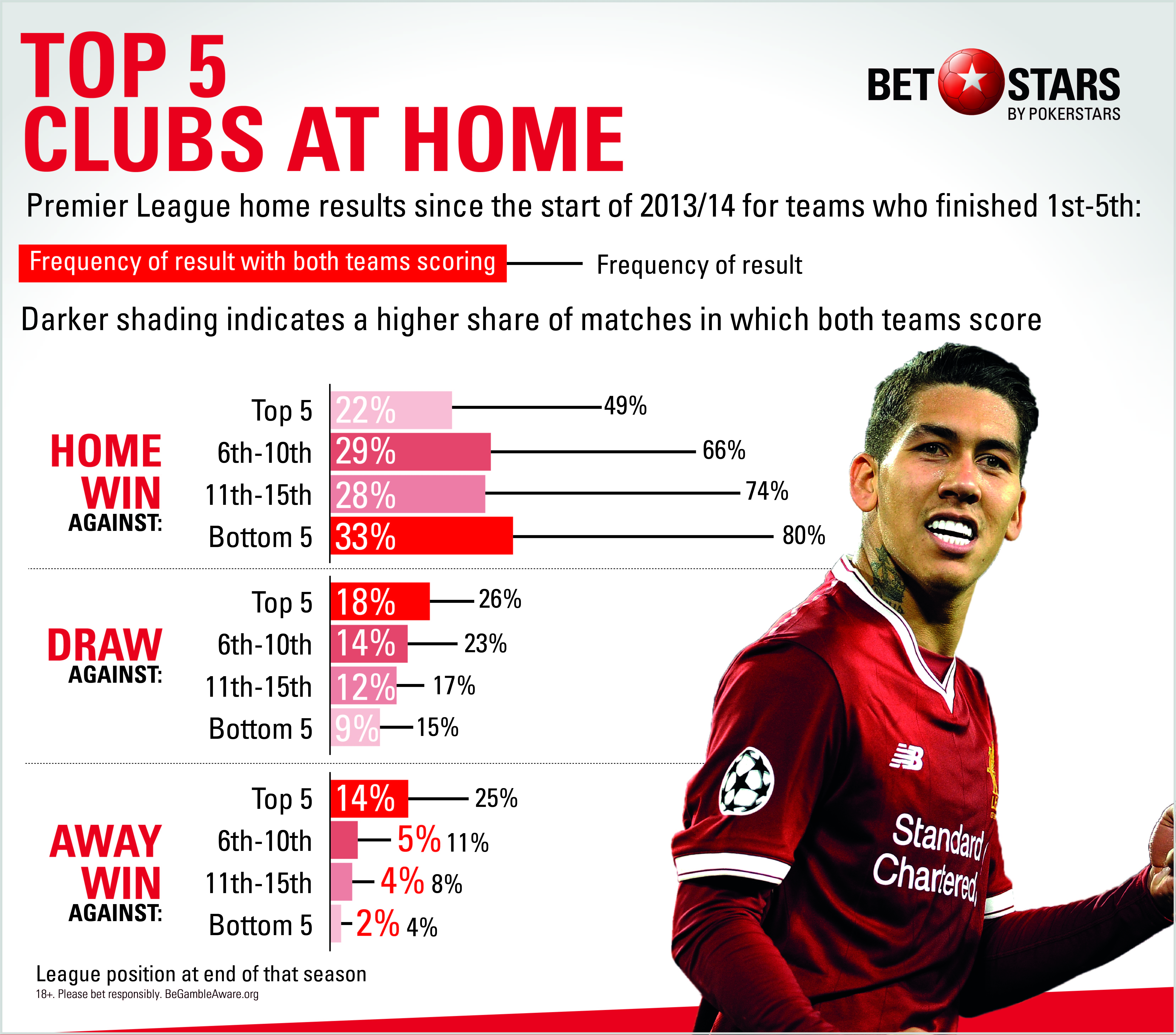 However, there tend to be relatively few BTTS wins in these encounters: only around one in five sees a home victory in which both teams find the net, which is a smaller ratio than against lower-ranked opponents. But if you fancy high-flying visitors to cause an upset - via either a draw or an away win - then BTTS results form a relatively high share of all outcomes and can be backed more assertively.
Upper mid-table clubs at home
Next, let's examine what happens when a team finishing lower in the top half of the table - specifically between sixth and 10th - is at home. In games that they win, those against clubs finishing in a similar position yield the highest proportion of BTTS results, so if you fancy a home victory in this sort of encounter then there's value here.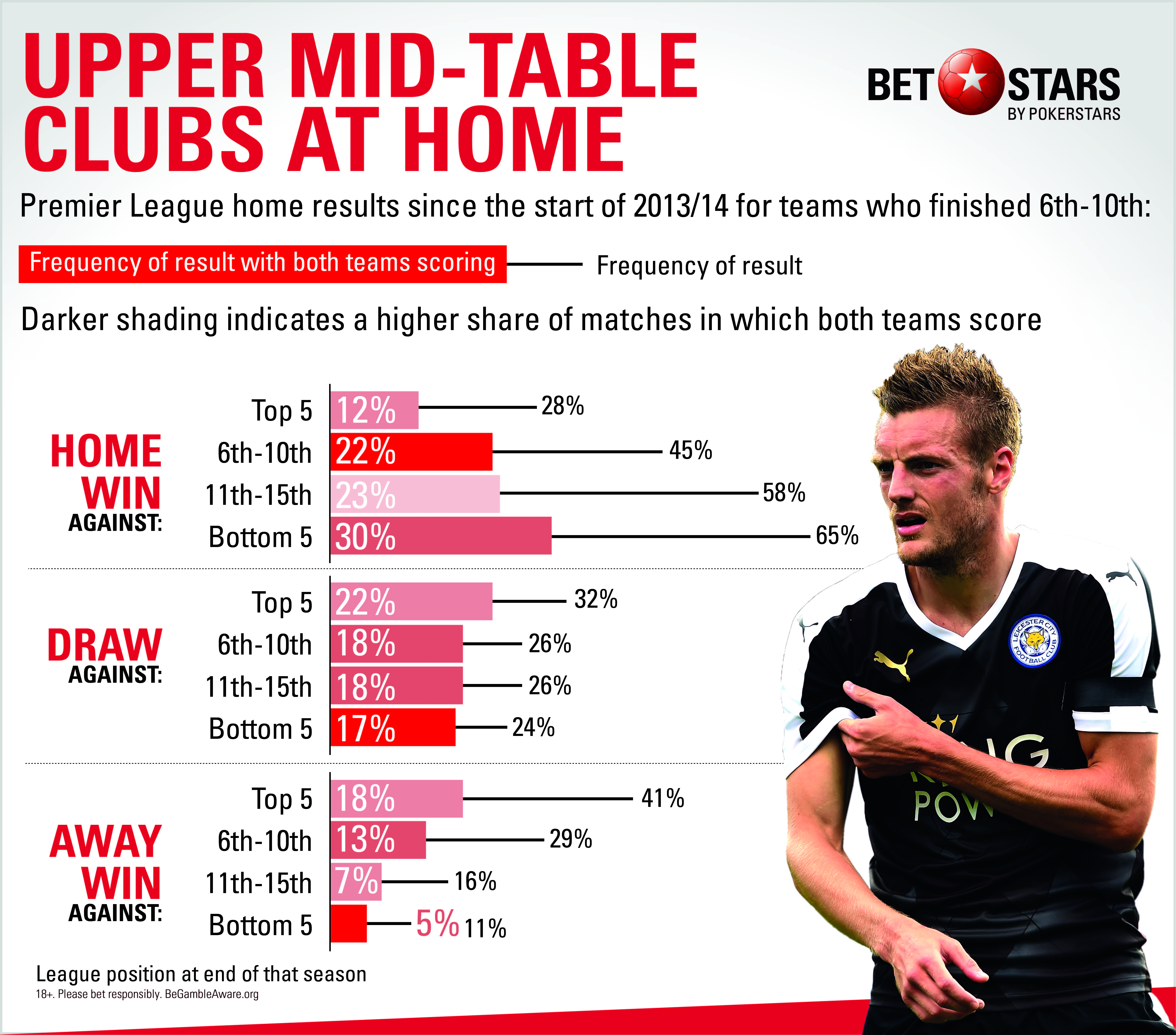 However, when the outcome is a draw or an away win then an upset caused by a relegation battler provides the best relative chances of both teams scoring.
Lower mid-table clubs at home
Moving on to games where the next group of five clubs - those who finished the season between 11th and 15th - were hosting, we find a different pattern. While their chances of recording a victory against a better-placed visiting team are relatively low, those they do win have a healthier ratio of BTTS results than wins against clubs finishing in the bottom half.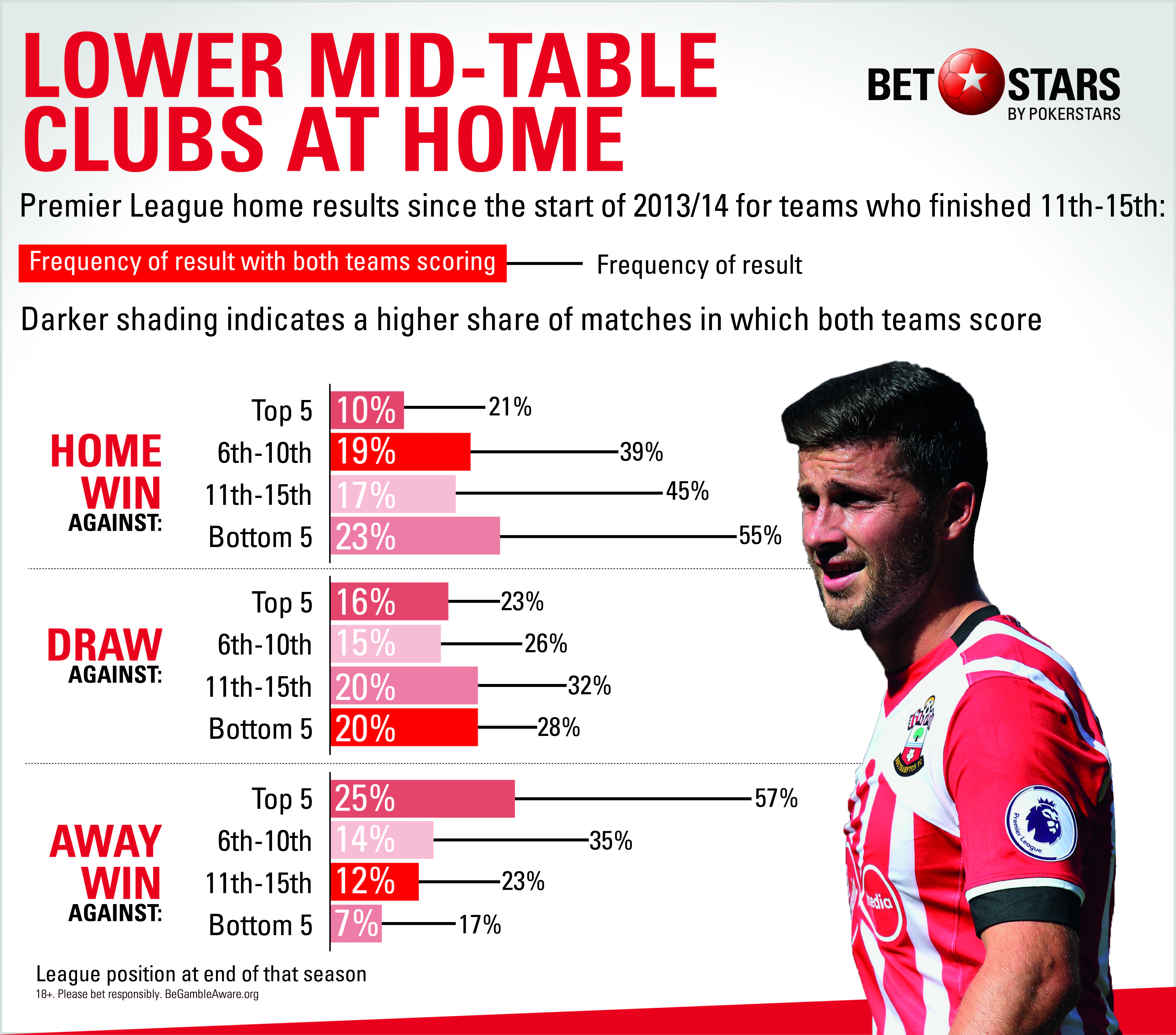 When it comes to draws, however, you're better looking at the visit of one of the teams struggling near the foot of the table, which contain the lowest relative share of goalless games.
Bottom five clubs at home
Finally, we wanted to see how results are affected by a relegation struggler - a team that went on to finish in the bottom five places - being the home side. Apart from when they host a top-five opponent, the general rule is that the higher placed the opponent, the more value there is in backing BTTS with a home win.
A six-pointer against a fellow bottom-five side sees the highest ratio of score draws to 0-0s, while a defeat to a team finishing between 11th and 16th is proportionally likeliest to see both teams score.
Which clubs have seen the most BTTS wins?
There are certain teams whose style of play makes clean sheets less likely at both ends of the pitch, so we've also measured how regularly each current Premier League club - excluding those who have participated in fewer than three of the last five seasons - records a win without keeping a clean sheet.
While current title favourites Manchester City and Liverpool see the highest number of BTTS wins overall, this is inflated by how often they take maximum points. However, even as a share of all victories, only three clubs are likelier to win and concede in the same match. Bournemouth, Crystal Palace and Watford have all seen both teams score in more than half of their Premier League wins since the start of the 2013/14 season, so should attract plenty of these bets whenever they have a good chance of claiming three points.
By the same token, Southampton, Burnley and Newcastle - all of whom see both teams find the net in fewer than 40% of their wins - have offered poor value for those expecting a goal-fest.
80+ Minute Goal Insurance - Free Bet up to £/$/€20 if a goal scored after 80 minutes turns a winning bet into a loser. Applies to Premier League, Champions League & Europa League Match Result bets only. Min odds: 1/2 (1.50). Terms apply.