Analysis: How to find value in the FA Cup first-round odds

The FA Cup first round takes place this weekend and finding the best bets can be tricky.
Regardless of whether punters are looking for a few bankers or the biggest chance of an upset, it can be tough to analyse the FA Cup odds and make a selection due to the number of non-league clubs still in the competition.
To help you with your football accumulators for the weekend, we have looked back at every tie at this stage of the FA Cup since 2000 to break down what the historical data suggests is likely to happen.
The @emiratesfacup so far has been 🔥🔥 pic.twitter.com/UpxtxQAagE

-- The Emirates FA Cup (@EmiratesFACup) November 6, 2018
How many FA Cup upsets will there be?
Firstly, we have grouped each club by division and calculated the proportion from each tier who progress to the second round.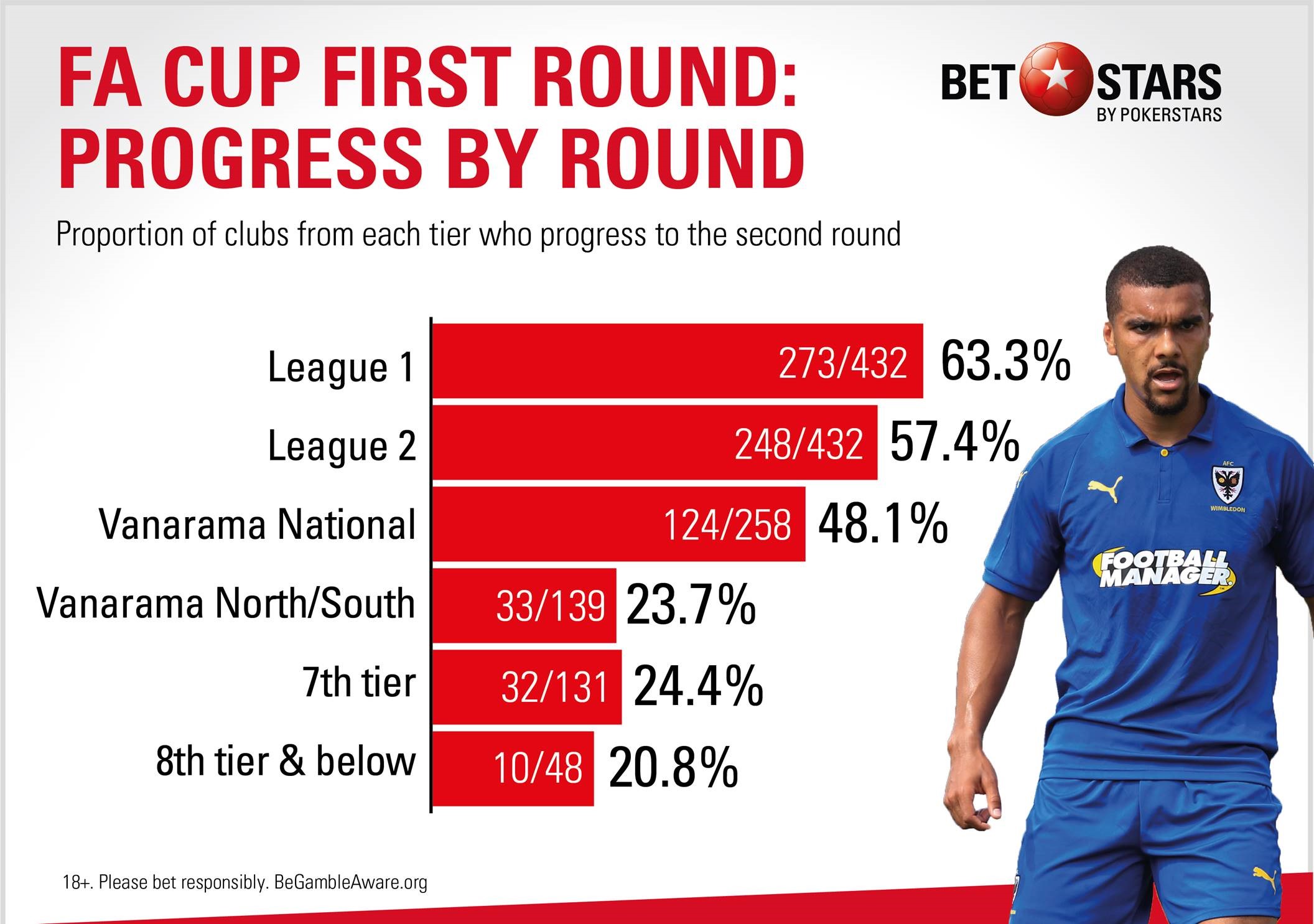 While more than half of the EFL clubs who enter at this stage are successful, along with almost half of those from the Vanarama National, teams who sit in the sixth tier or lower all tend to prevail at similar rates.
How does each type of FA Cup tie pan out?
We were also interested to see how the difficulty of a fixture affected teams from each division.
Given that clubs from the sixth tier downwards fare similarly, we can simplify this analysis by rolling them into a single category.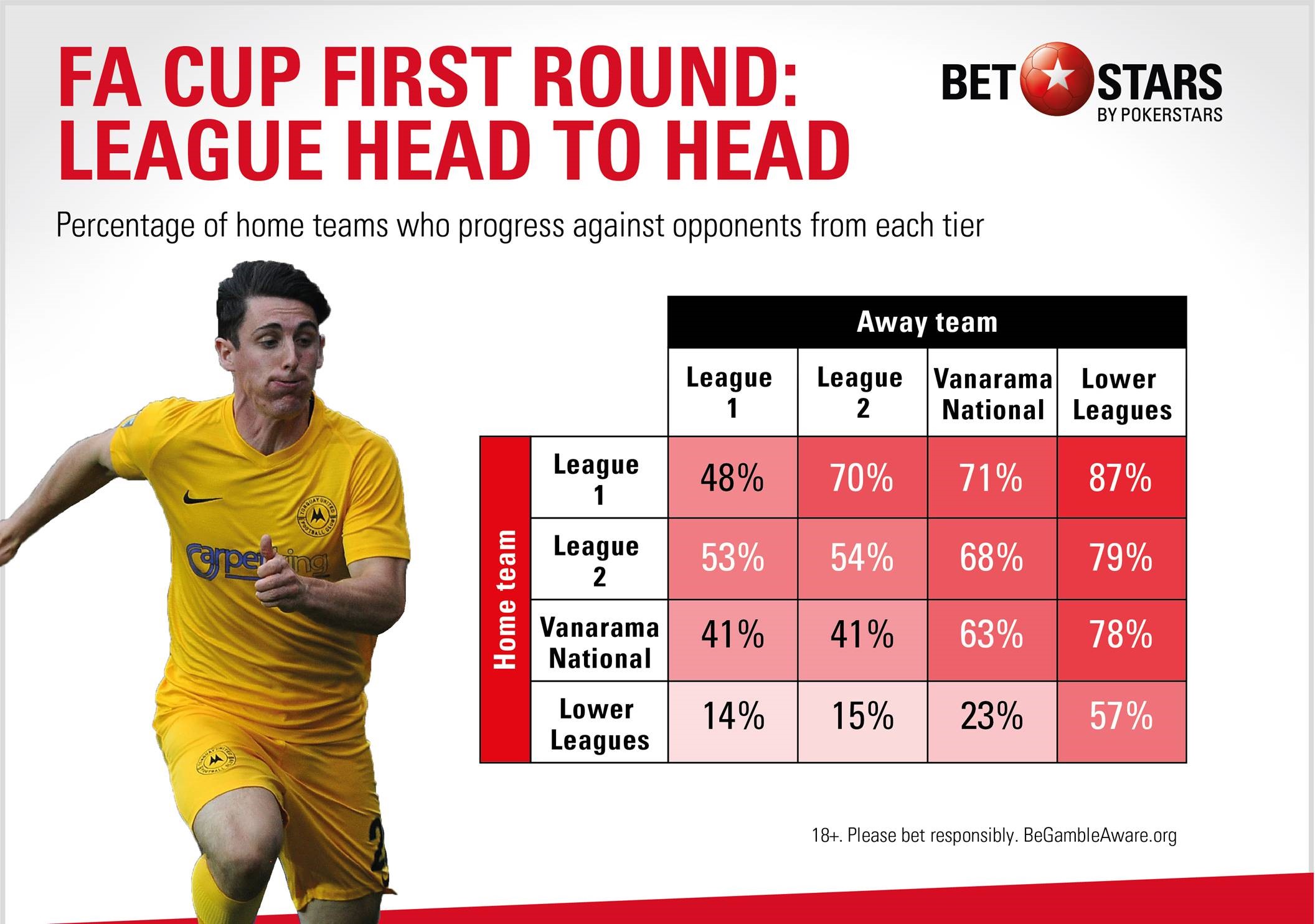 We can see that a team playing at home against an opponent at least one division below themselves will prevail more than two thirds of the time.
For teams in the sixth tier and below, even home advantage tends to be scant help against visitors from a higher level of the game.
This weekend's best bets
If you're interested in accumulators or in-play betting, check out our regular betting columns:
How common are FA Cup replays?
On average we can expect one in every four ties to go to a replay, as 178 first-round fixtures have done so over the last 18 seasons.
Matches between League 2 and Vanarama National teams are the most likely to go to a replay, regardless of who is at home: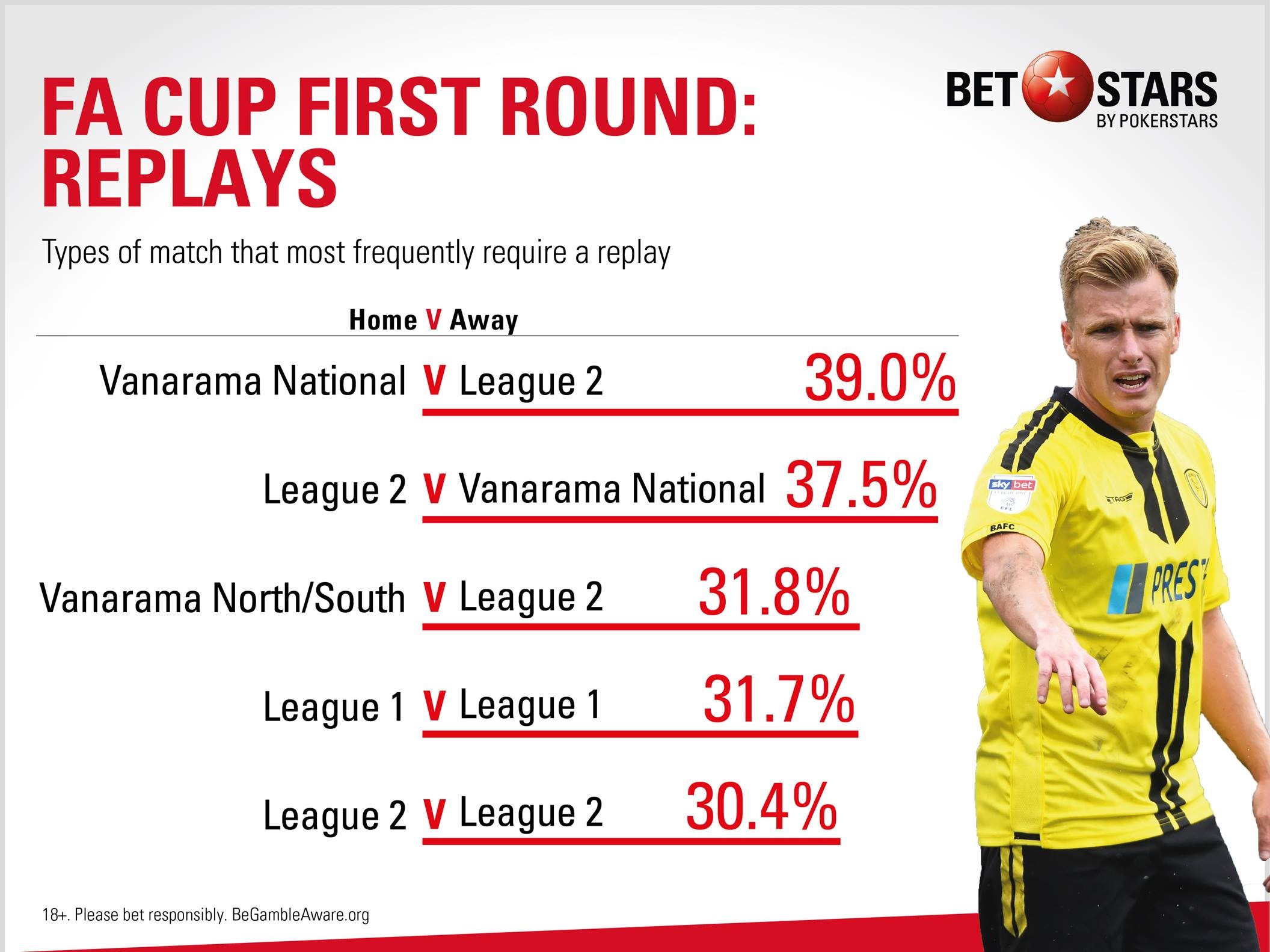 What does this mean for the FA Cup first round 2018/19?
Biggest chances of a win:
League 1 away at 6th tier or lower (86%):
League 2 away at 6th tier or lower (85%):
League 2 at home to 6th tier or lower (79%):
Biggest chances of a replay:
Vanarama National at home to League 2 (39%):
League 2 at home to Vanarama National (37.5%)
Two League 1 teams (31.7%)
Acca Bonus up to 100% - Place a treble or higher across any sport and if it wins, we'll boost your winnings in cash. Remember to check that all your selections are higher than 1.50 (1/2). T&Cs apply.