Who are the luckiest - and unluckiest - teams in Europe?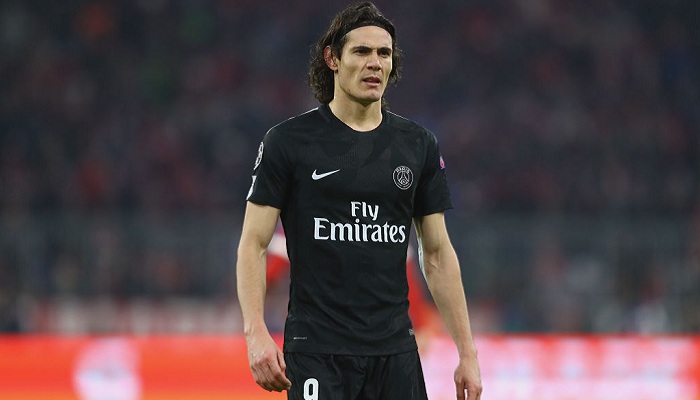 With many clubs in the league table separated from their neighbours by goal difference or only a handful of points, there is still plenty of room for luck to play a part in the rankings. We were interested in finding out who might have ridden their luck so far and who might be due an upturn in fortunes, so we turned to StrataBet's data for answers.
We've ranked every team in the 'big five' European leagues based on how lucky the data suggests they've been this season. We've built an algorithm which gives every team an overall 'luck' rating out of 10, with a higher score indicating a greater level of good luck, based on five factors:
The proportion of a team's shots which have hit the woodwork, compared with those of their opponents.
The percentage of poor chances - as classified by StrataBet's match analysts - that a team has scored compared with the proportion they have conceded. These will typically be long shots or attempts where the attacker has a limited view of the goal.
The number of penalties a team has won compared with how many they have conceded, adjusted for the number of penalty box entries they have made.
How often a team has played opponents who have been missing key players. Each team's key players have been identified using StrataBet's data to calculate individual contributions to the chances they create, measured using expected goals.
The proportion of minutes a team has faced fewer than 11 men compared with how frequently they've been reduced in numbers themselves.
Each factor is given its own weighting in the algorithm based on the extent to which luck is involved and how important it is in determining a team's fortunes.
Premier League: Luckiest teams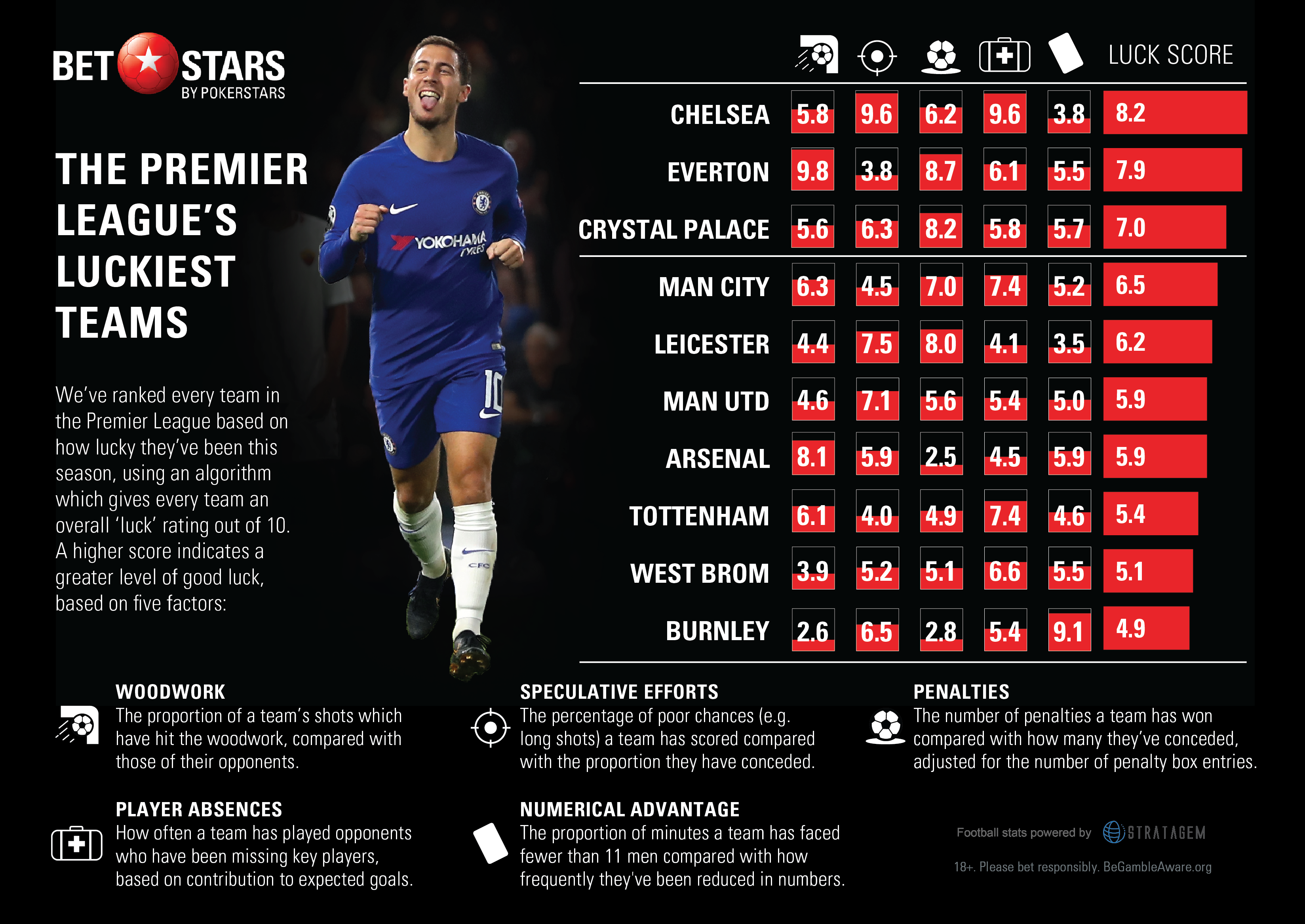 It turns out that Chelsea have been the luckiest team in the Premier League so far this season, with their record from poor chances and playing other teams at the right time standing them in particularly good stead. The Blues have seen five goals fly in from low-probability chances without conceding from one of these situations in return, and have avoided facing the likes of Sergio Aguero, Mesut Ozil and Roberto Firmino when lining up against their rivals.
Everton meanwhile have had the woodwork on their side, with the frame of the goal denying their opponents on 11 occasions but not seeing a single one of their own shots come back off the post or crossbar. The Toffees have also had seven penalties awarded to them from only 429 incursions into the box and fare better than everyone except Leicester when it comes to not conceding them: the Foxes have only gifted their opponents one penalty from 618 entries into their area.
Premier League: Unluckiest teams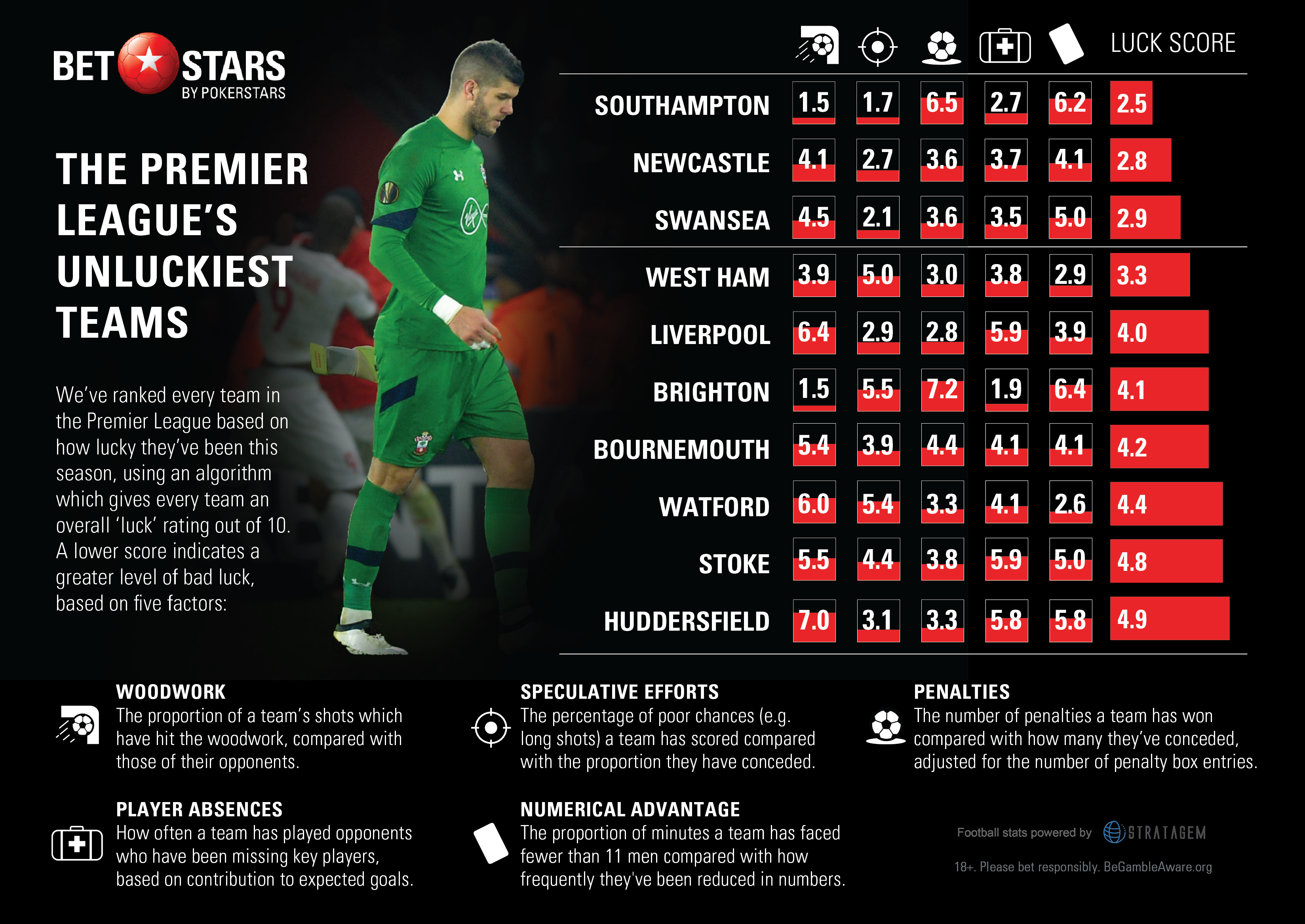 Southampton have slipped into the relegation zone recently and there are plenty of reasons to suggest they've been dealt a bad hand. They are one of only two Premier League teams yet to score from a speculative chance this season and have also hit the woodwork three times as often as their own has saved them (nine rebounded shots to three). The Saints have also fared worse than every team except Brighton at avoiding their opponents' star players.
The Seagulls really can't catch a break and have faced the top 'expected goals' contributor from each Premier League club at least once this season: Alvaro Morata was missing against the Seagulls last weekend but not when the two sides met in December.
Europe: Luckiest teams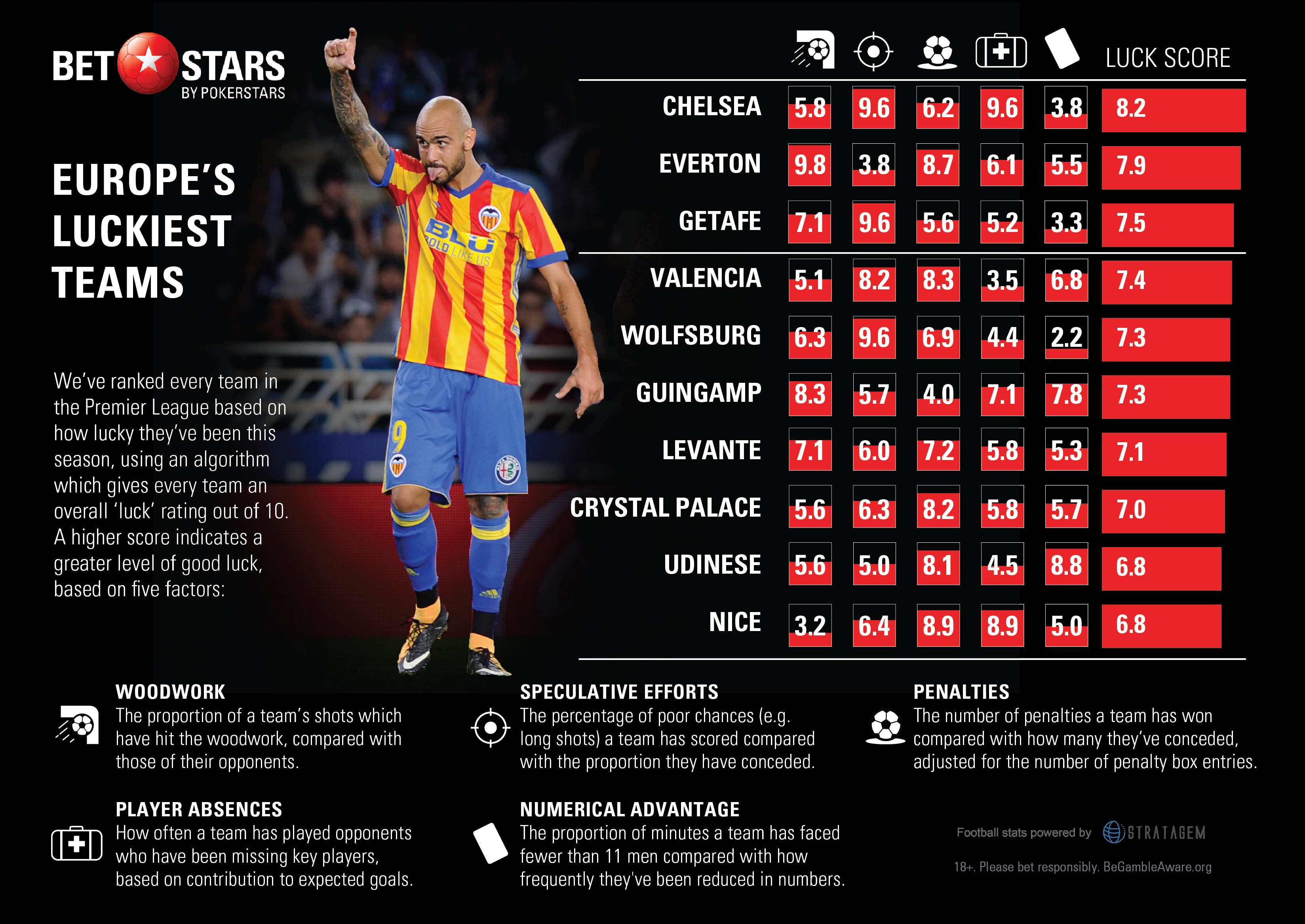 Whilst Chelsea and Everton are not just the luckiest clubs in the Premier League but across all five of Europe's top leagues, Getafe lead the rest of the pack. They have been particularly fortunate when it comes to converting poor chances, with a Europe-best 8.9% of theirs finding the net.
Everton's luck when it comes to being awarded penalties is only surpassed by three teams - Toulouse lead the pack with nine penalties from 438 box entries but Nice crack the overall top 10 because they have dodged several major players (including Neymar) as well as being awarded spot-kicks even more readily than the Toffees (seven from 428 entries).
Europe: Unluckiest teams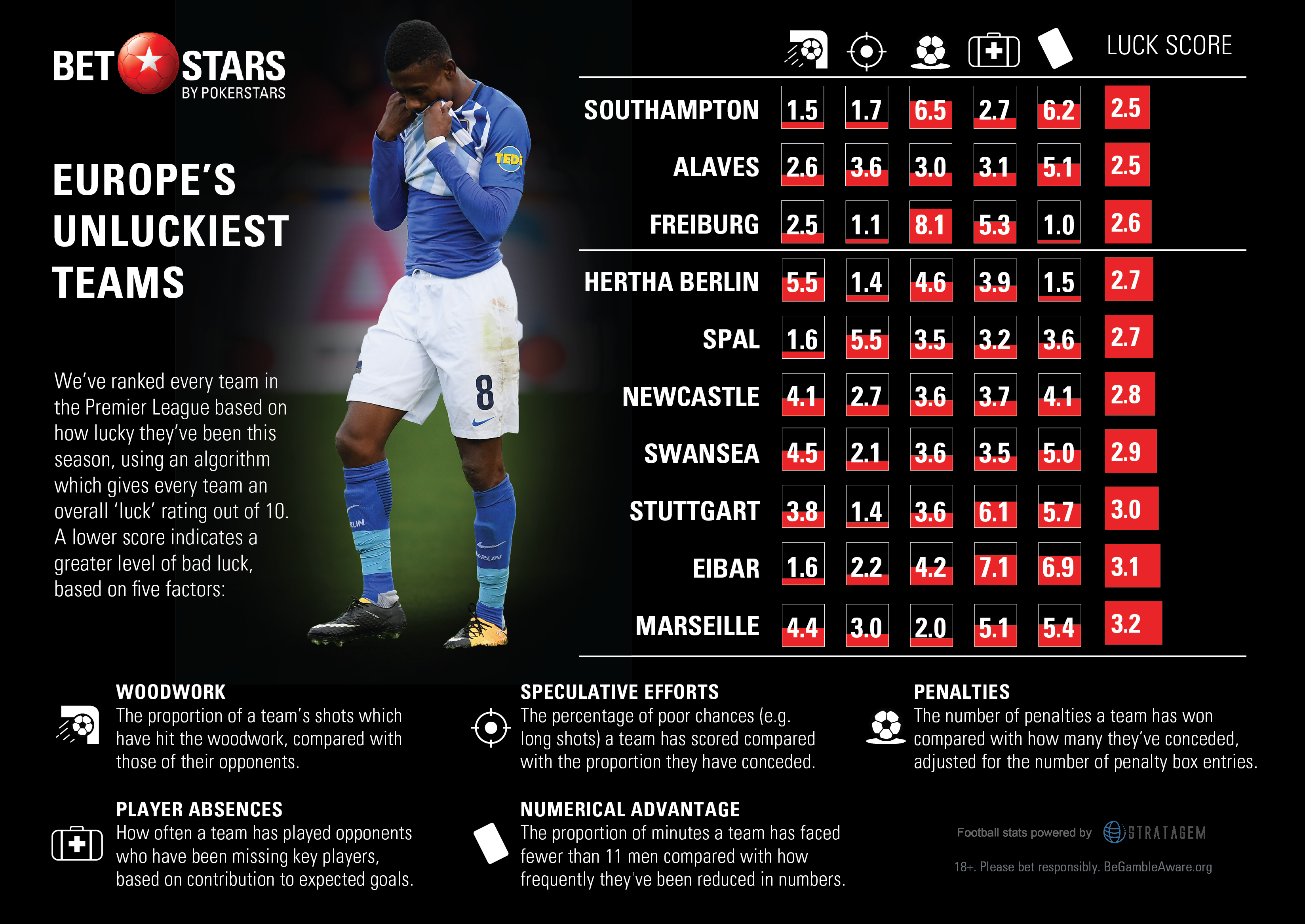 Southampton just edge out Alaves as the unluckiest team in Europe, but have at least had some good fortune from the spot and from red cards. The Babazorros look to have been unlucky across four of our five categories and fairly average at the fifth, so if the universe is fair then they should start to pull away from the relegation zone as the season wears on.
Marseille have been the unluckiest team in Europe at facing poor chances, with a whopping 9.2% of speculative efforts by opponents going in. However they are at least average at converting their own, unlike Freiburg who have failed to score from a speculative effort and also struggle to repel those of the opposition (conceding 4.2%).