Luis Garcia Q&A: Former Spain star on Barcelona success

Luis Garcia has recently given us his thoughts on a busy week of European football for some of his former clubs.
Now, ahead of Barcelona vs Real Madrid in El Clasico this weekend, the former midfielder discusses how the season has gone for the Spanish champions as they bid to end their Liga campaign unbeaten.
On Ernesto Valverde...
Luis Garcia: "I think he's done a great job, I enjoy watching Barcelona and they haven't lost a game in La Liga but of course they're out of the Champions League having been favourites at the beginning of the competition. Barcelona have a good chance of winning the Copa Del Rey as well as La Liga, so for his first year I think Valverde has done a fantastic job."
On how Barcelona turned their season around after losing 5-1 to Real Madrid in the Supercopa de España ...
"To be honest the team didn't change too much in the weeks after that defeat, but playing against Real Madrid was a wake-up call for all the players and we've seen Valverde managing the tempo of the games very well. Messi sometimes plays in a role where he has all the freedom to move on the pitch, which gives Barcelona something extra - I think Messi has been outstanding once again in the league as well as the Champions League, even though he hasn't scored as many goals as he used to.
"The team understood the way Valverde wanted to play with that little change from 4-3-3 to 4-4-2 and I think that was the key to the team doing well. They are going to win La Liga easily as well having a good chance to win the Copa Del Rey."
On Barcelona achieving an unbeaten season in La Liga...
"To become invincible in a competition isn't something you can do every year, especially now when La Liga is more competitive and the teams are getting better and better. We've seen this year that teams like Valencia, Atletico Madrid, Sevilla, Real Betis, Villarreal are all getting closer to the European competitions and they're making it more difficult for Barcelona and Real Madrid than two or three years ago. Barcelona should be very proud as these days it's very difficult to not lose for a whole season."
On which players Barcelona need to sign this summer...
"The Premier League has some fantastic players that for sure would link well with Barcelona, but it isn't easy and you have to be careful because we've seen players go to Barcelona and struggle. Andre Gomes was an amazing player for Portugal and Valencia and arrived in Barcelona and struggled to adapt. We also saw the other side with someone like Paulinho, people weren't very happy when he arrived in Barcelona and now he's gone on to become an important hero, an unexpected hero for Barcelona supporters.
"I think Barcelona will look to sign another player in the midfield, they already bought Coutinho who is a fantastic player for the team, perfect for the philosophy of the club. I'm sure they will need to bring someone else because you only have Lionel Messi and Luis Suarez scoring goals and if you want to win trophies you need players who can score 20/25 goals a season."
On Lionel Messi being a tougher opponent than Cristiano Ronaldo...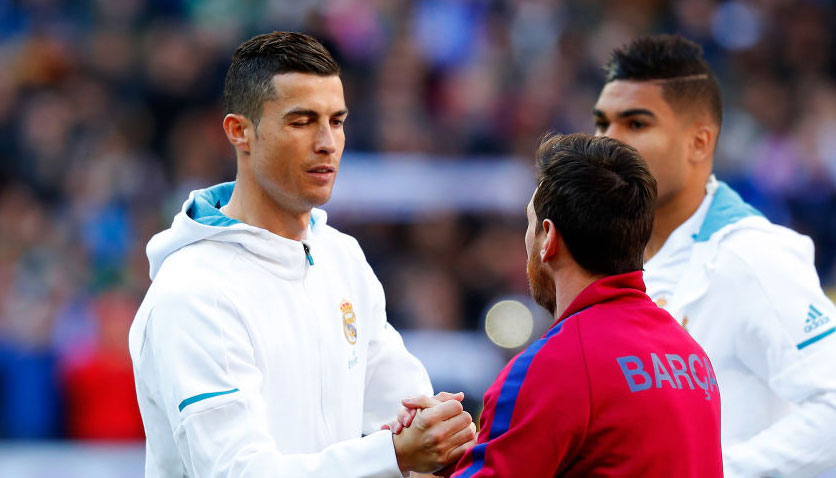 "To play against Messi is always very difficult, you never know what to do against him. Ronaldo is of course one of the best strikers in the history of football, but Messi always gives you something different. It doesn't matter if you try to mark him man-to-man, or you try to give him freedom, or you try to play him in defence, you know he's always going to be a key man - Lionel Messi is always very difficult to play against."
On Ronaldo returning to the Premier League...
"I don't see Ronaldo going back to the Premier League. Anything can happen as we saw with Coutinho going to Barcelona and Neymar going to Paris Saint-Germain, but to be honest I think Cristiano Ronaldo is very happy at Real Madrid, he's winning trophies, he's a very important player, he knows that, and he wants to continue making history at that club. If he does decide to go back to the Premier League I can see him going to Manchester United, the team who gave him the start of his career."
On Barcelona being more reliant on Messi than Real Madrid are on Ronaldo...
"I think not long ago Real Madrid were more reliant on Cristiano Ronaldo, but lately with the way Barcelona are playing and with all the injuries on the team that they are more reliant on Lionel Messi than Real are on Ronaldo."
Click here for more football previews