Stan Collymore Q&A: Former striker recalls winner against Newcastle

Stan Collymore scored one of the most famous goals in Premier League history with the dramatic late winner as Liverpool beat Newcastle 4-3 at Anfield in 1996.
Ahead of Liverpool vs Newcastle on Saturday, we caught up with the former striker to hear his memories of that goal, get his predictions for this weekend's game, plus his thoughts on former clubs Nottingham Forest, Aston Villa and Southend.
That goal against Newcastle in 1996
What are your memories of the winning goal against Newcastle?
"My abiding memory is how much space I had in the box so late on in the game. I remember seeing John Barnes and Ian Rush passing the ball between them like schoolkids and then eventually it got to me and I just thought 'just get a good contact on it, get a good first touch and see what happens'. As it was I got a really good first touch, steadied myself and I just hit it beyond the goalkeeper before he could react, and I think there was a split second of silence before the whole of Anfield erupted. Then I just ran off like a crazy man round towards what is now the Kenny Dalglish Stand and I knew that I had won the game."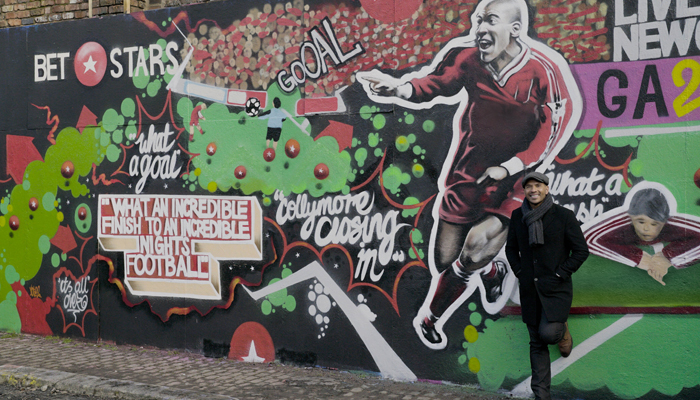 Who from the 1996 Liverpool team would make it into the current side?
"Steve McManaman, John Barnes, Robbie Fowler and Ian Rush would make it into the current Liverpool side all day long! Robbie Fowler and I scored 102 goals between us [for Liverpool]. Roberto Firmino and Mo Salah are heading towards that but they aren't technically a strike partnership. I think the Liverpool of today are like the Liverpool of that vintage, exceptional going forward but not so good defending. I hope Jurgen Klopp learns from our mistakes and realises that to win a title you need to defend well, something that Liverpool don't always do."
Liverpool vs Newcastle
What is your score prediction for the Liverpool vs Newcastle game?
"It's not just a normal Liverpool vs Newcastle game, it's Liverpool versus the man who took them to their fifth European title in Rafa Benitez. Looking at when Newcastle beat Manchester United, it's clear that Rafa gets his teams up for the biggest games, and Rafa will not want to go back to Anfield, see the banner with his name on and just be there as a bit-part player. He will want to win. Having said that, I think Liverpool are irresistible at home, if they get the first goal then it could be a case of pick a number as Newcastle tend not to score a lot of goals. I'm going to go for Liverpool 3-1 Newcastle."
Where does Rafa Benitez rank amongst Liverpool's best managers?
"Rafa will be up there with the likes of [Bill] Shankly and [Bob] Paisley, [Kenny] Dalglish and [Joe] Fagan by virtue of the fact that even though he didn't win the league, he won the European Cup and that put a nice bit of distance between Liverpool and Manchester United. Even though Manchester United started to claw back those domestic top-level titles, Rafa Benitez winning Liverpool's fifth European Cup put a nice two-trophy gap between them and their rivals. That's why he will go down in folklore, though I think he will have been very disappointed not to have won the league with the quality of players he had at his disposal at the club. But if he's not quite Shankly and Paisley, he's in that group underneath that who have their own banner at the Kop and you don't get one of those unless you've been absolutely top quality."
Will Newcastle United stay in the Premier League?
"Rafa Benitez will keep Newcastle up. I think the performance against Manchester United showed that he now has them fighting as a team, as individuals and as a group. The players that have come in have done quite well, he's been working on a tight budget and we still don't know whether Mike Ashley will sell the club to another consortium, it's looking unlikely but Mike Ashley himself doesn't really want to stay at the football club. Rafa has had to wheel and deal in that kind of environment but there are three worse sides than Newcastle in the Premier League, and I think they will take their place alongside the other 19 clubs in the Premier League this time next year."
Liverpool
How impressed have you been with Mo Salah?
"It's a difficult thing for a player to come into such a big club with huge expectations like Liverpool. Salah has come in and just continued his form from Roma. He has lots of pace but also the ability to finish, and don't forget he scored the winning penalty to help Egypt to the World Cup finals, so it's been a quite incredible year for him. It would be rounded off superbly if he managed to get Liverpool into the top four, helped them win a trophy and managed to make sure Egypt have a good showing at the World Cup. Without a doubt his [Salah] first season has been an incredible achievement."
Who would you like to see Liverpool sign this summer?
"What Liverpool need now is a top quality goalkeeper. When people say what type of goalkeeper, whether young or old, I would say go for one with experience. I know Petr Cech and Joe Hart may be just beyond that period to go somewhere like Liverpool, but a goalkeeper is usually at their best around the age of 30 or beyond. A player like Petr Cech or Joe Hart, who has won the Premier League, can bring that experience into the dressing room. It's a position that Jurgen Klopp needs to address and I think that Loris Karius and Simon Mignolet aren't quite up to Liverpool standard, so I would expect them to be shopping in the summertime for an experienced, top quality goalkeeper. Gigi Buffon is talking about retiring at the end of the season. Why not go and make him a megabucks offer? An incredible presence, an incredible footballing icon, to walk into another great football club from Juventus and say right I'm going to have two years here, I'm going to help bring through the next goalkeeping prodigy at Liverpool, and I'm going to help them win the title, what a fitting end to a great career that would be."
Nottingham Forest
What do you think of Aitor Karanka at Nottingham Forest, can he take them back to the Premier League?
"I like Aitor Karanka. Nottingham Forest have had a very tough time of it recently with Karanka at the helm, but he needs a couple of transfer windows to ship one or two players out. They've got a couple of really good young players, Zak Clough and Ben Brereton in particular, they are very much the future and the present of Nottingham Forest. So if he [Karanka] can bring in some experience around those guys, as we already saw with their really good FA Cup performance when they knocked out Arsenal, there is plenty there to work with. He is the right man at the right time, but needs backing in the next couple of windows."
Should Ben Brereton follow in your footsteps and move to Liverpool?
"Ben Brereton is a little way off Liverpool yet. I went from playing in the Championship with Nottingham Forest and getting promoted to doing well in the Premier League. Then when I knew I could play in the Premier League I made that journey to Liverpool, which is a difficult one to make at any stage of your career. I think to make the jump from the Championship to the Premier League, especially now with so many players in Premier League squads at big clubs who are internationals, he would find it very difficult to get a game and if he did he would have to hit the ground running."
Aston Villa
Do you expect Aston Villa to get automatic promotion this season?
"Aston Villa have been very disappointing for a lot of this season, spending a lot on wages on a lot of talent, including the likes of Jonathan Kodja, Albert Adomah and John Terry. But they are now starting to get it right and players like [Scott] Hogan and [Conor] Hourihane are putting in performances. I don't think there has ever been any doubt about their ability to go up, they're probably the most expensively-assembled squad in the Championship, but I think the points Wolves were getting [earlier in the season] have made it more difficult for Aston Villa and other clubs in the chasing pack. Seeing Villa put seven straight wins together was impressive, they're now third in the table and they have got something to aim at, an old rival about seven or eight miles down the road in Wolverhampton. Can they catch Wolves? Doubtful, but absolutely they can go up in second place."
How good can Jack Grealish be?
"Now is his time to come good. I remember watching Jack Grealish in an FA Cup semi-final against Liverpool, I was there as a Villa fan, my two former clubs going head to head, and he was sensational. Then as always, as British based players are, he was pitched as the next great thing. What Jack needs to do now is make sure Aston Villa get back to the Premier League and then start to put in Premier League performances week in week out. Does he have the ability? Absolutely. Does he have the consistency? Not yet no, but if he finds it then Villa have a huge asset for the next five or six years."
Southend
Is Chris Powell, your former team-mate, the right man for Southend?
"Chris Powell is a player I played with at Southend, a former England international who has managed several clubs of course and he knows how to bring the right players into the club. Southend have got a very good squad for their division, they needed dusting off a bit and an injection of confidence. With a little bit of luck, which you always need as a manager, I would expect them over the next two or three seasons to be challenging for the play-offs in the Championship."