Analysis: Who will win the World Cup Golden Boot?

One of the trickiest markets to assess in a major tournament like the World Cup is top goalscorer, with plenty of surprise winners down the years.
From Italy's fringe striker Toto Schillaci in 1990 to Colombian breakout star James Rodriguez four years ago, history is littered with warnings not to back the favourite, but who should you put your money on instead?
We've combined Stratagem's international data from the start of 2017 onwards with a predictive model based on the World Football Elo Ratings (which we think paint a more accurate picture than FIFA's official rankings) to find out.
For each player listed in the World Cup top goalscorer odds, we've looked at three main factors:
How far is their team likely to go in the tournament?
What share of their team's chances - measured using expected goals - do they get on the end of?
What are their main attacking strengths, and how do these line up with the weaknesses of their likely opponents?
Going for gold
Top of the list is Diego Costa of Spain, who is the main attacking outlet of a team expected to go far in the competition. He has renowned abilities from close range and set-piece situations and looks to be fantastic value at 25/1.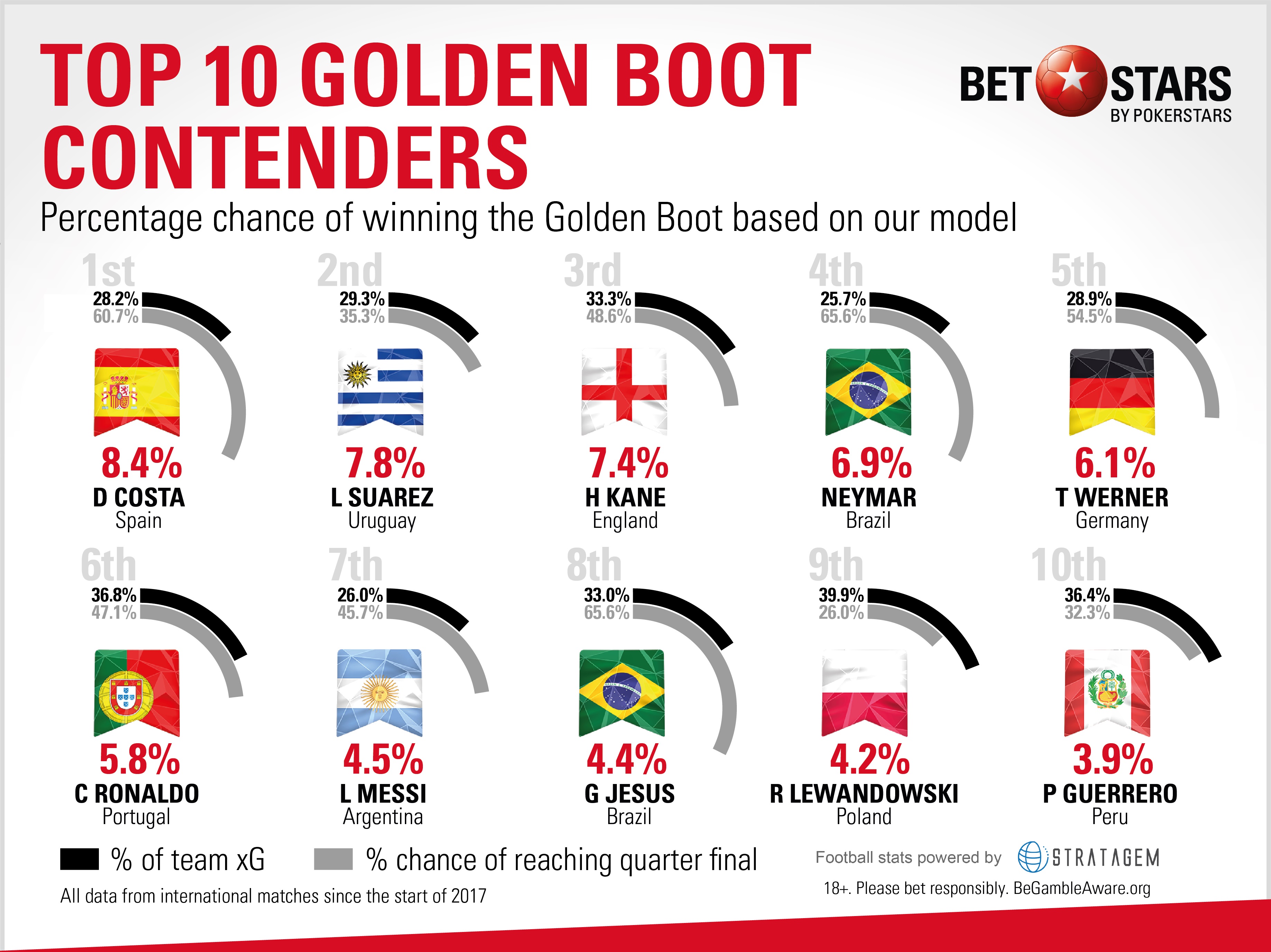 Second in the list is another La Liga man with Premier League pedigree: Luis Suarez of Uruguay and Barcelona. In what will surely be his last World Cup, an easy group containing an Egypt side without a fully-fit Mohamed Salah, underwhelming hosts Russia and unfancied Saudi Arabia could see him surge into an early lead that shortens his current 20/1 price.
Completing our top three is England's Harry Kane: another player who receives excellent service for a nation that has the potential to go deep in the tournament.
Elsewhere in our top 10 there are a few intriguing picks, most notably Peru's captain Paolo Guerrero who looks to be excessively underrated at 100/1. An experienced striker who leads the line for a solid - and perhaps under-rated - team that regularly does battle with the likes of Argentina and Brazil is surely worthy of consideration as an outside challenger.
World Cup Golden Boot Betting Tips
Aerial threats
We have also broken down some of the characteristics we analysed to see how the leading strikers compare. First of all, here are the top five aerial threats, based on the percentage of their expected goals which have come from headed chances at international level.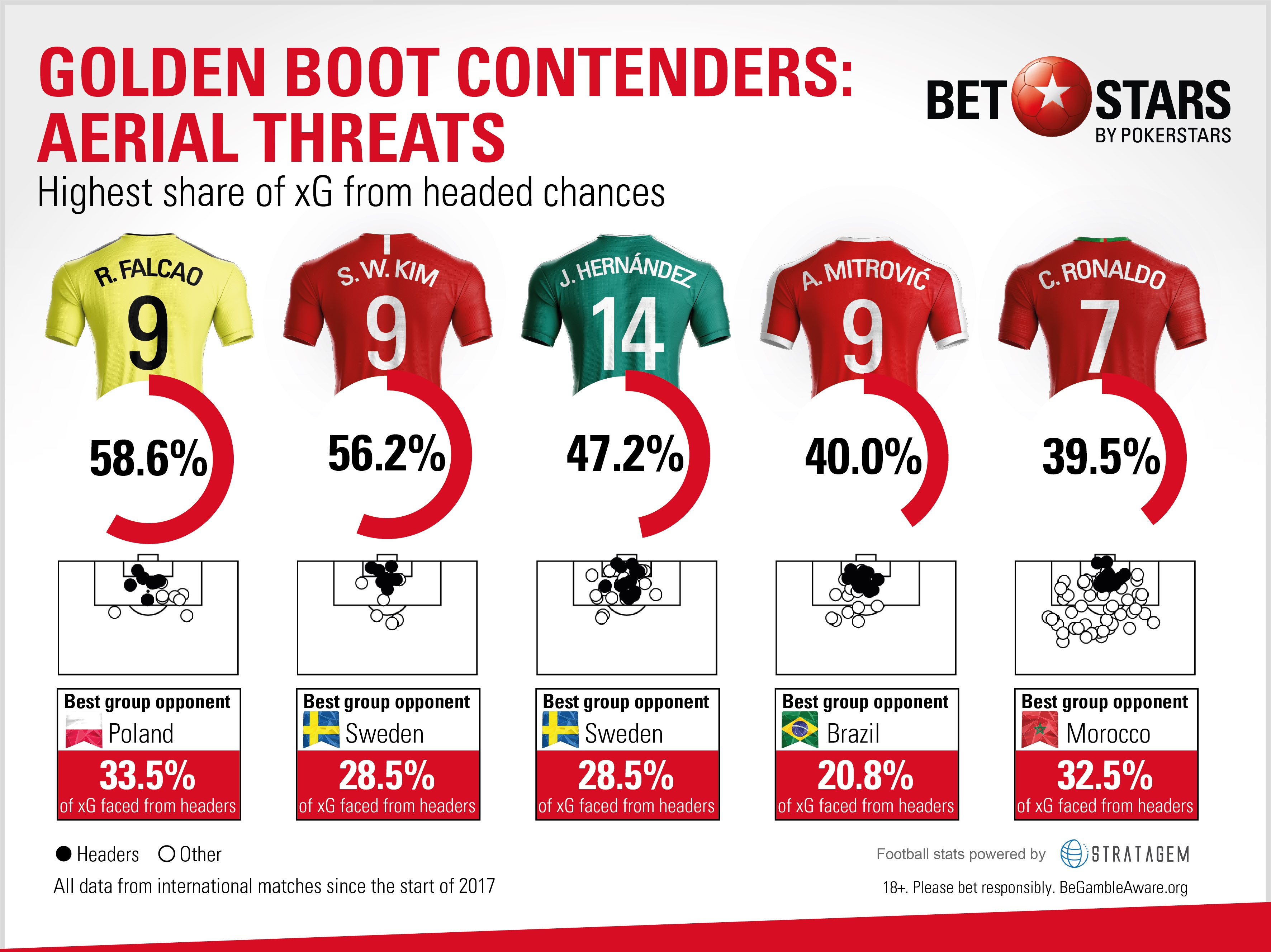 Leading the way is Premier League flop Radamel Falcao of Colombia, who has been one of two contenders to have been more of a threat in the air than with the ball at his feet. Of the teams his side will meet in the group stages, Poland look the most vulnerable to headed attempts, so backing him to find the net against them would be sensible.
Cross converters
While Falcao also features among the five players with the largest share of expected goals from crosses, there are three players who rely on deliveries from wide areas even more than him.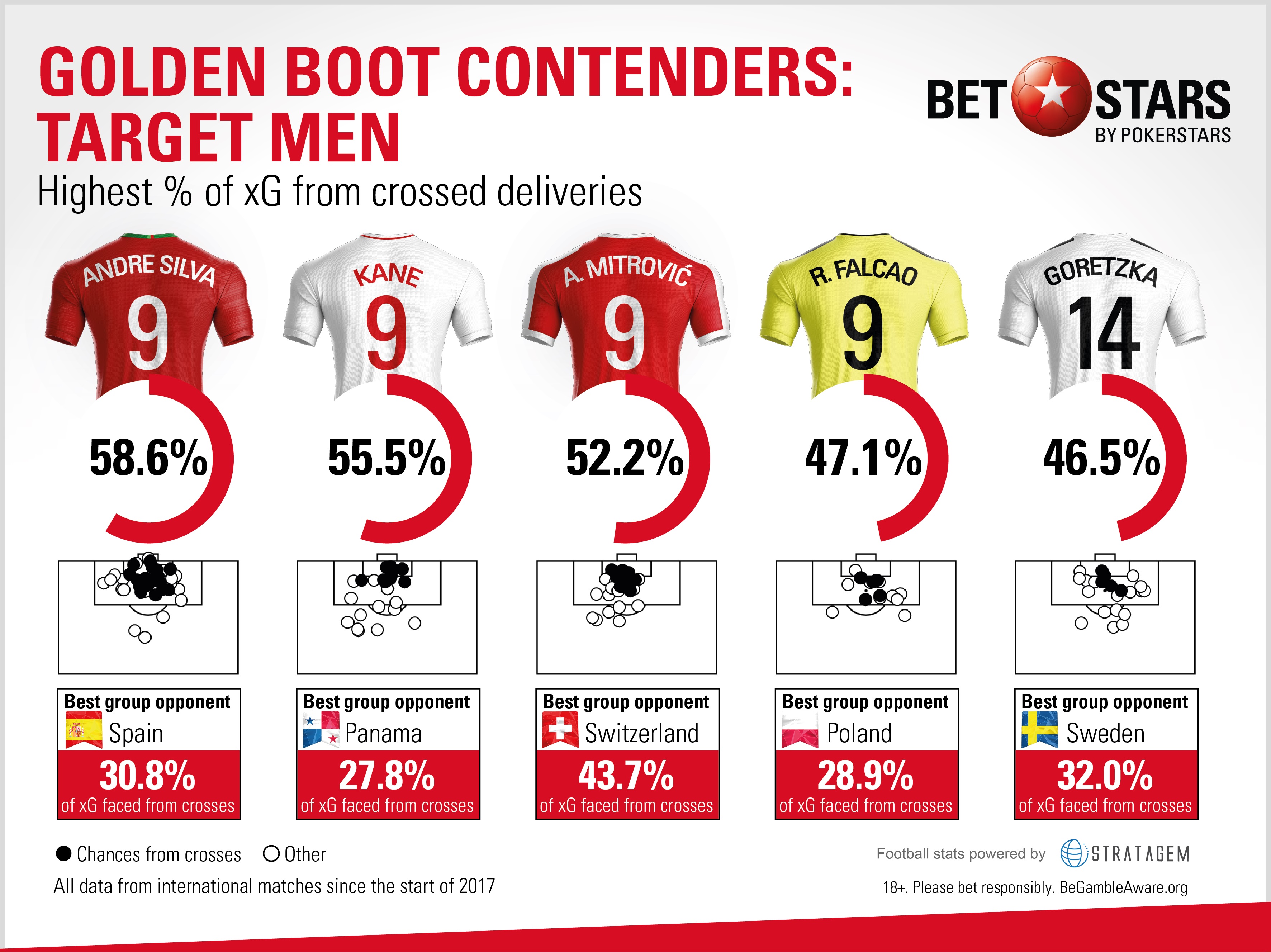 One of these is Kane, with a whopping 55.5% of his goalscoring threat coming from crosses: second only to Andre Silva of Portugal. The Premier League has another entry in Aleksandar Mitrovic, who will surely be lighting up the top flight at either Fulham or Newcastle next season.
Staying grounded
Directing our attention to the ground, where purists would argue that the game is meant to be played, we find a different mix of players altogether led by another England-based marksman.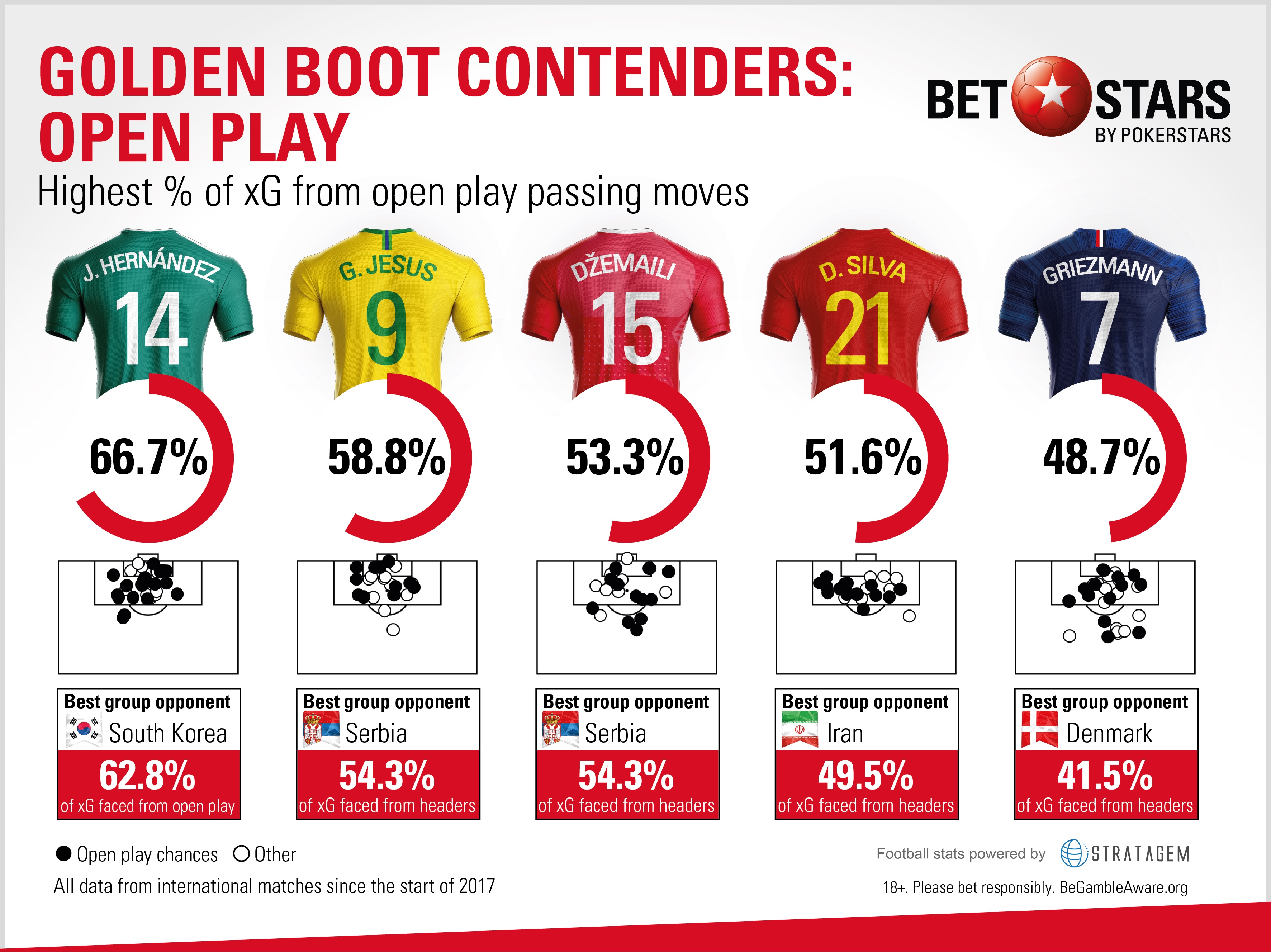 West Ham's Javier Hernandez receives two-thirds of his expected goals from open play passes, edging out Manchester City pair Gabriel Jesus and David Silva in a Premier League-heavy top five. Watch out for Chicharito when his Mexico side face South Korea, who have had a real problem shutting down passing moves recently.
Deadly from distance
Against some of the more determinedly packed defences, getting the ball into the penalty area via the air or the ground may be a tall order and a striker capable of finding the net from distance will be a real asset.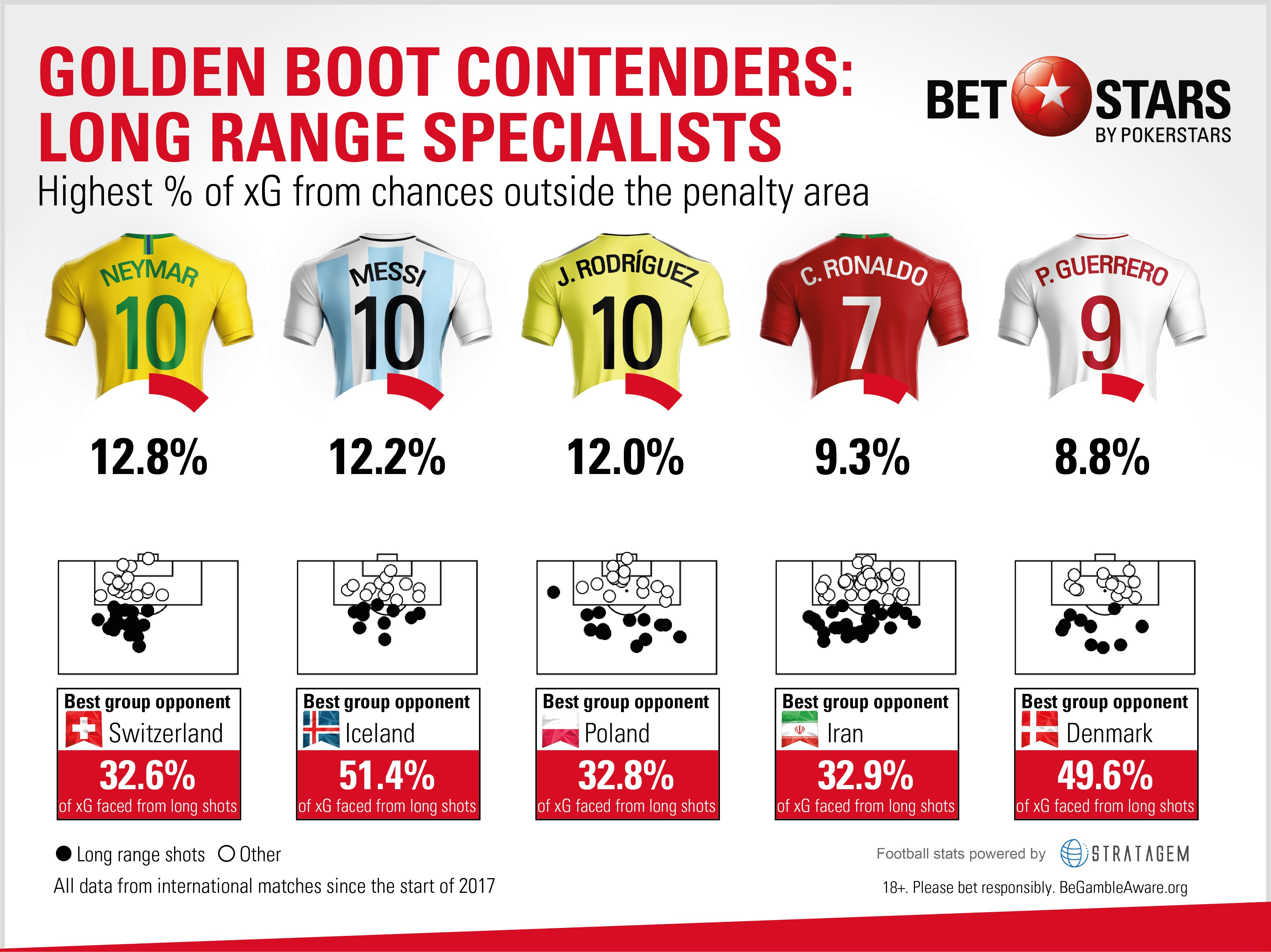 Here we find three players head and shoulders above the rest: former Barcelona team-mates Neymar and Lionel Messi, joined by 2014's top scorer Rodriguez. All three rattle in a double-digit percentage of their expected goals from outside the box and should therefore be closed down rapidly even when they receive the ball in deep positions.
Set-piece specialists
Finally let us look at one of the big talking points from the last tournament: set-pieces. With complex tactical plans difficult to develop at international level due to the lack of training time available, those teams who can co-ordinate themselves from corners and free-kicks will surely have an edge.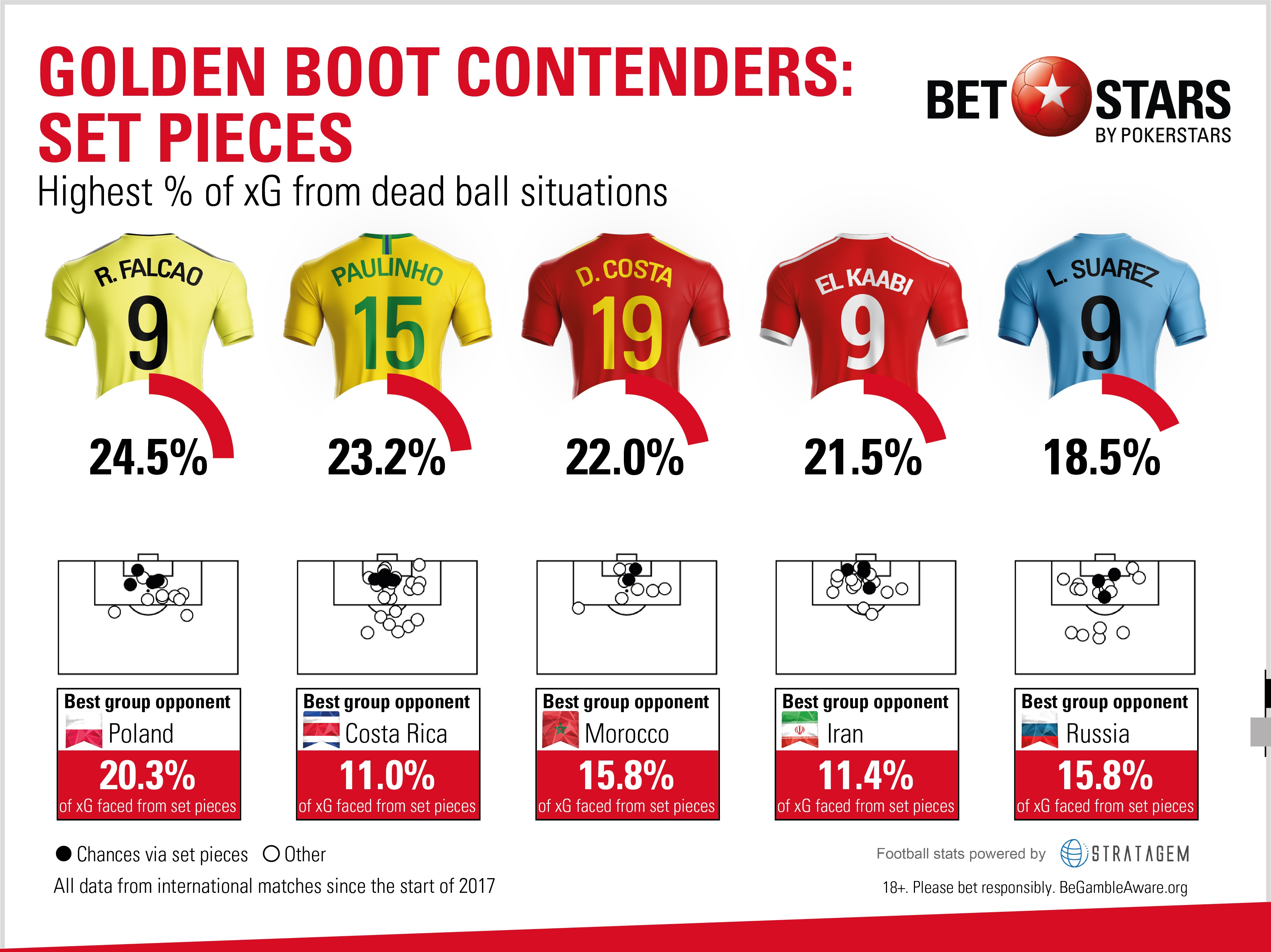 Again we find Colombia's Falcao at the top of the list - perhaps unsurprisingly given his prowess in the air and comfort with crosses - but attention should also be paid to the reinvigorated Paulinho of Brazil and our top two picks: Costa and Suarez, particularly in the latter stages when the margins become increasingly fine.
More World Cup previews here