Analysis: Who should be paired together in the Ryder Cup?

Arguably the most complex challenge facing a Ryder Cup captain is selecting their team's pairings for the foursomes, where two players take alternate shots with the same ball.
Not only are exceptional teamwork and a good combination of skills required, but the two golfers need to be able to thrive together under intense pressure and at close quarters.
We've delved into the data to calculate the three best foursome pairings for each team at the 2018 Ryder Cup by analysing six factors - three which relate to the players' performance and three which indicate how compatible they are.
Specifically for performance we've looked at how well their strengths and weaknesses overlap, their Ryder Cup experience to date and their overall showing this season to see how complementary these are.
On the personal side, we've researched each player's interests, background, physical attributes and even their star signs for clues to how well they will get on with their Ryder Cup team-mates.
Team Europe
Ian Poulter and Justin Rose
Selecting Ian Poulter as one of his wildcard picks looks to have been a masterstroke by Europe captain Thomas Bjorn, as he features in two of the three best possible foursome combinations.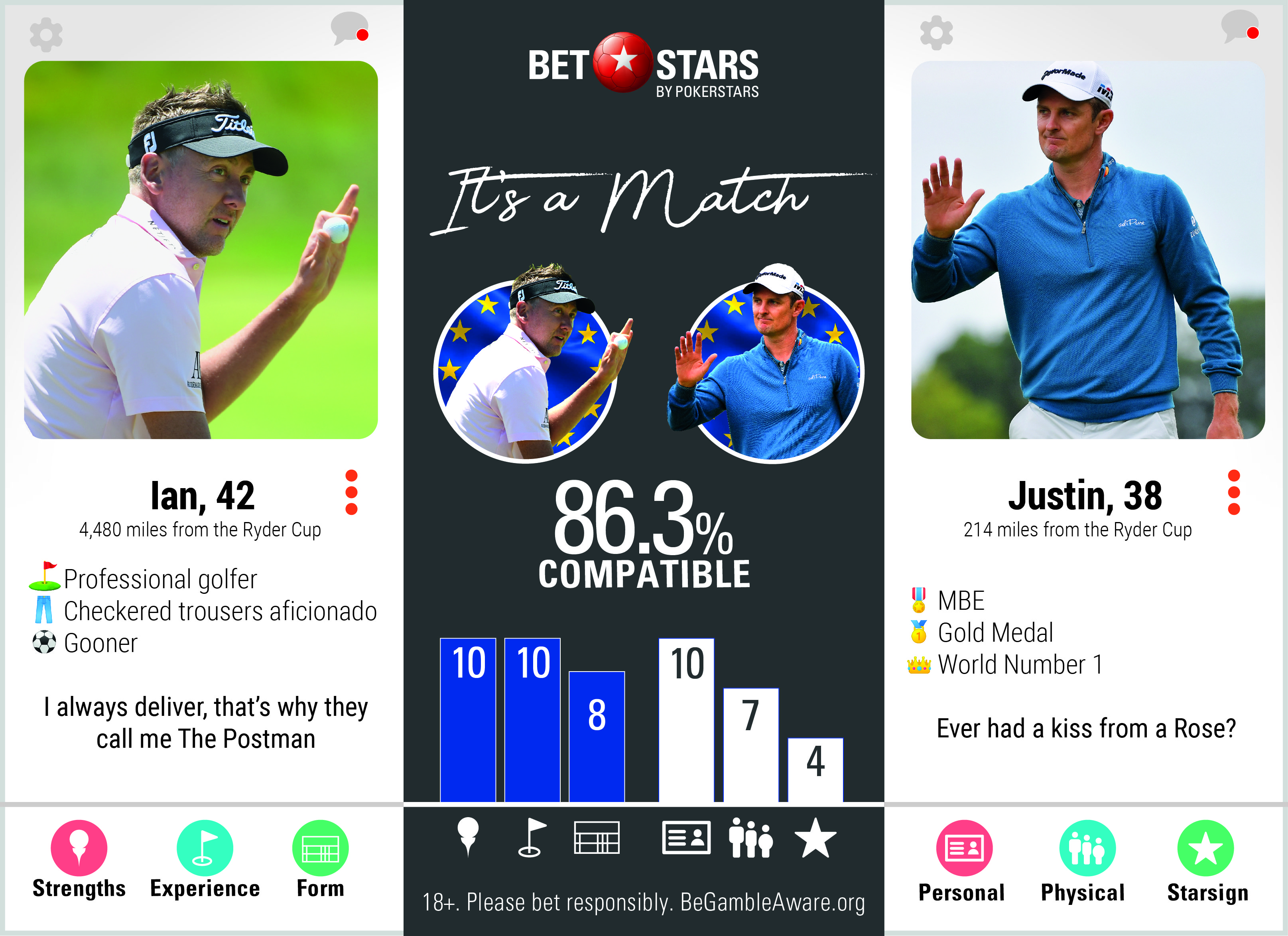 Pairing Poulter with long-time friend Justin Rose would provide the best possible chance of victory given their excellent records in the Ryder Cup and how well their performances overlap. Both have high accuracy off the tee in European Tour events this season and Rose boasts the team's highest Greens in Regulation (GIR) percentage, while Poulter's excellent putting compensates for Rose's relatively lacklustre short game of late.
On a personal level both enjoy their football and are renowned petrolheads, so they should have plenty to talk about as they make their way around Le Golf National.
Rory McIlroy and Justin Rose
Pairing Rose with Rory McIlroy would also be a sure-fire winner, with the Northern Irishman also up for plenty of football and car chat. These two also share a love of tennis that should see the conversation sparkle.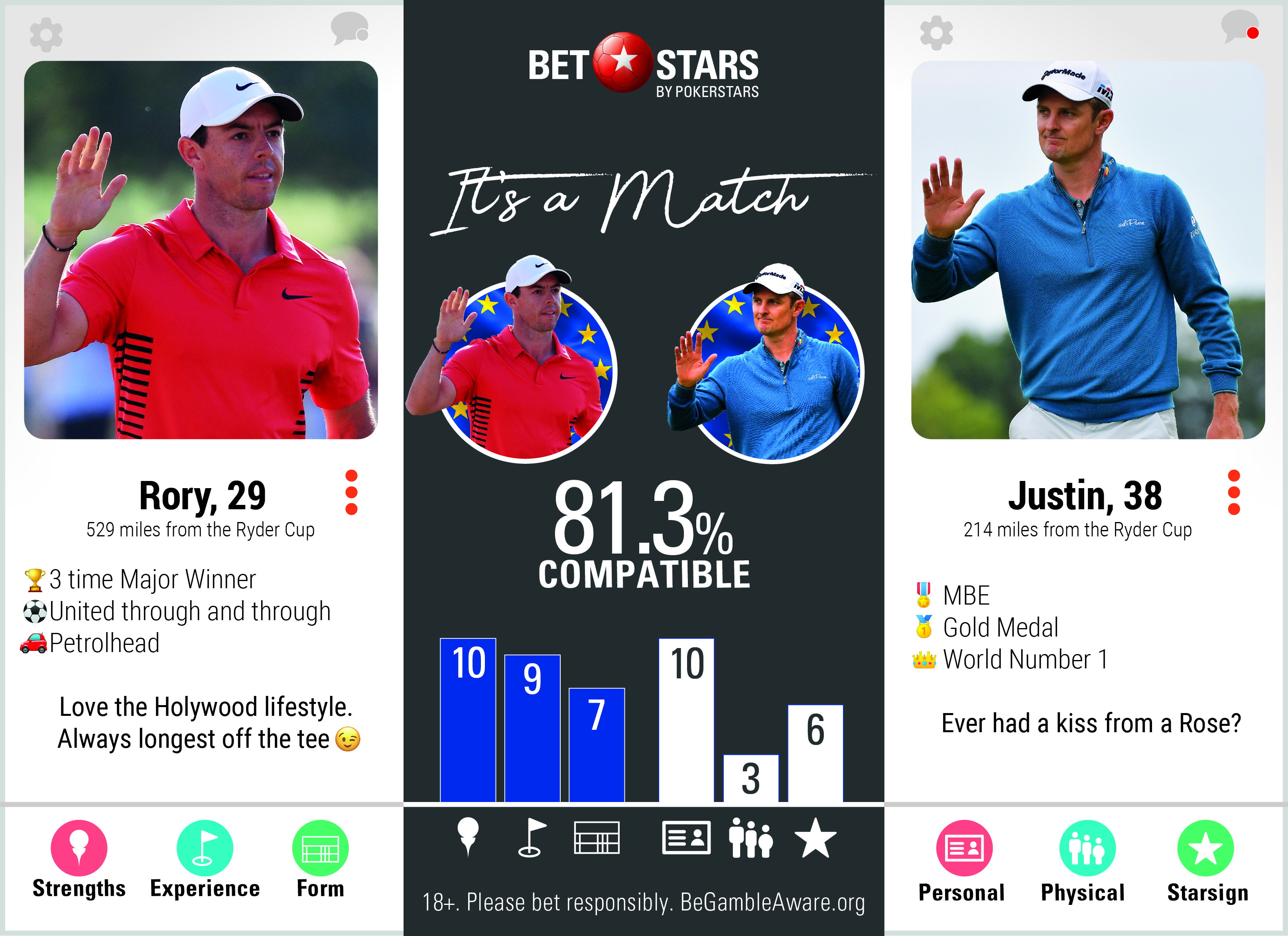 In performance terms they also complement each other well, with McIlroy's excellent putting - nobody in the team has a lower putts per GIR on European soil - and Rose's accuracy off the tee both compensating for a weakness in the other's game this year.
Rory wasn't that fussed about the Ryder Cup.

That's all changed since he made his debut eight years ago... pic.twitter.com/uTemh8U3Zy

— Ryder Cup Europe (@RyderCupEurope) September 26, 2018
Ian Poulter and Henrik Stenson
These are the two most accurate drivers from the European Tour to have made the Ryder Cup team and a Poulter and Stenson pairing would be guaranteed to start holes strongly, while Poulter's excellent short game would allow him to get Stenson out of trouble if needed.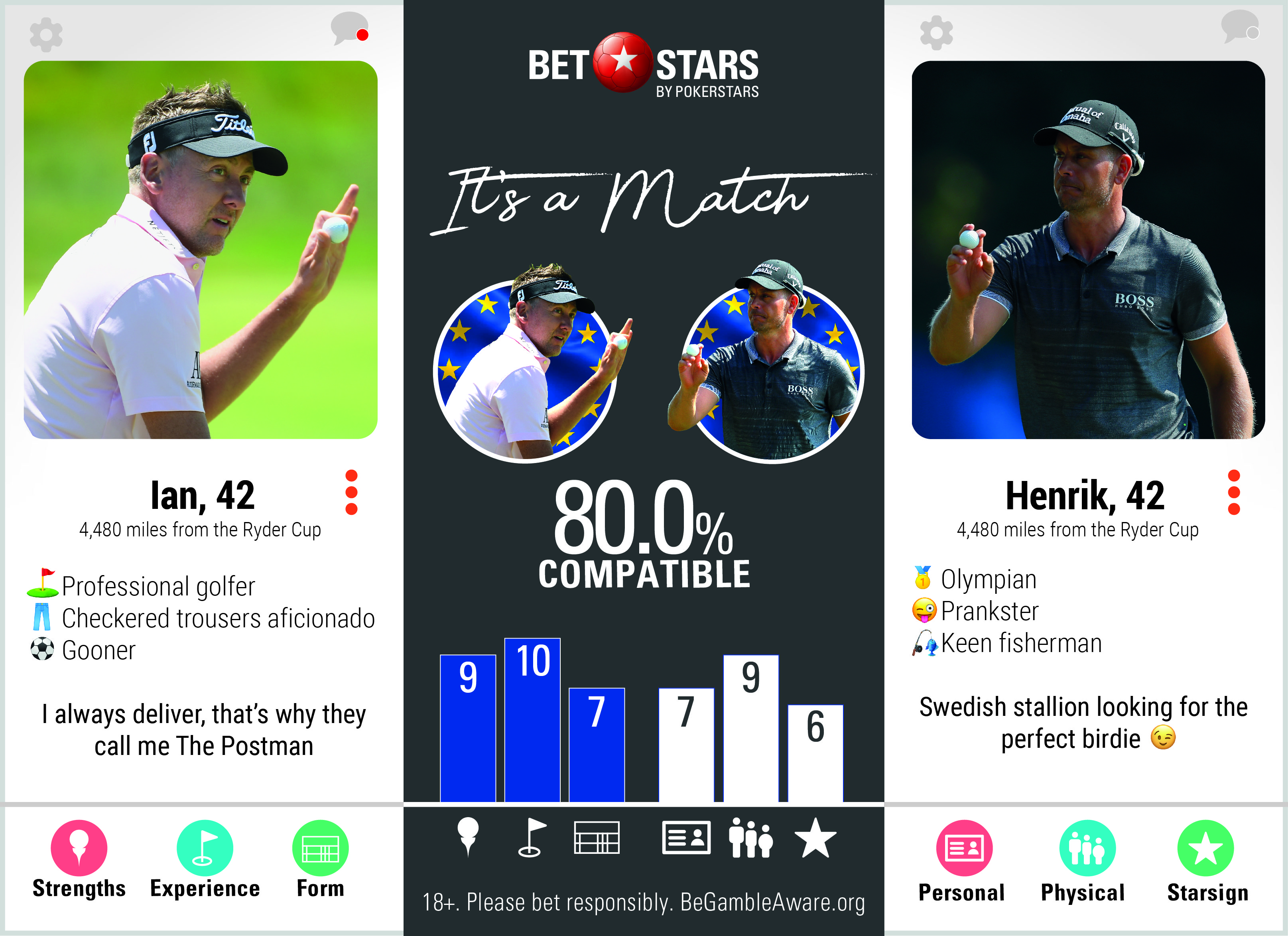 With both men having large families - seven children between them - and being very close in both age and height, they make a good match. Research has shown that relationships between physically similar couples tend to be more successful, so playing alongside each other could offer these two a subtle psychological boost.
Pairings to avoid
Just as there are pairs of players who the data suggests will work well together, there are those who Bjorn should avoid combining.
Paul Casey and Tyrrell Hatton would be the worst foursome pairing of all, with little overlap in strengths and weaknesses evident this season, not much in common and neither possessing much in the way of Ryder Cup success.
Casey would also be a poor match with Thorbjorn Olesen for similar reasons, while a combination of Hatton and Ryder Cup veteran Sergio Garcia would also run the risk of defeat.
Team USA
Brooks Koepka and Jordan Spieth
Jim Furyk's best shot at retaining the Ryder Cup could be to pair Brooks Koepka and Jordan Spieth together in the foursomes.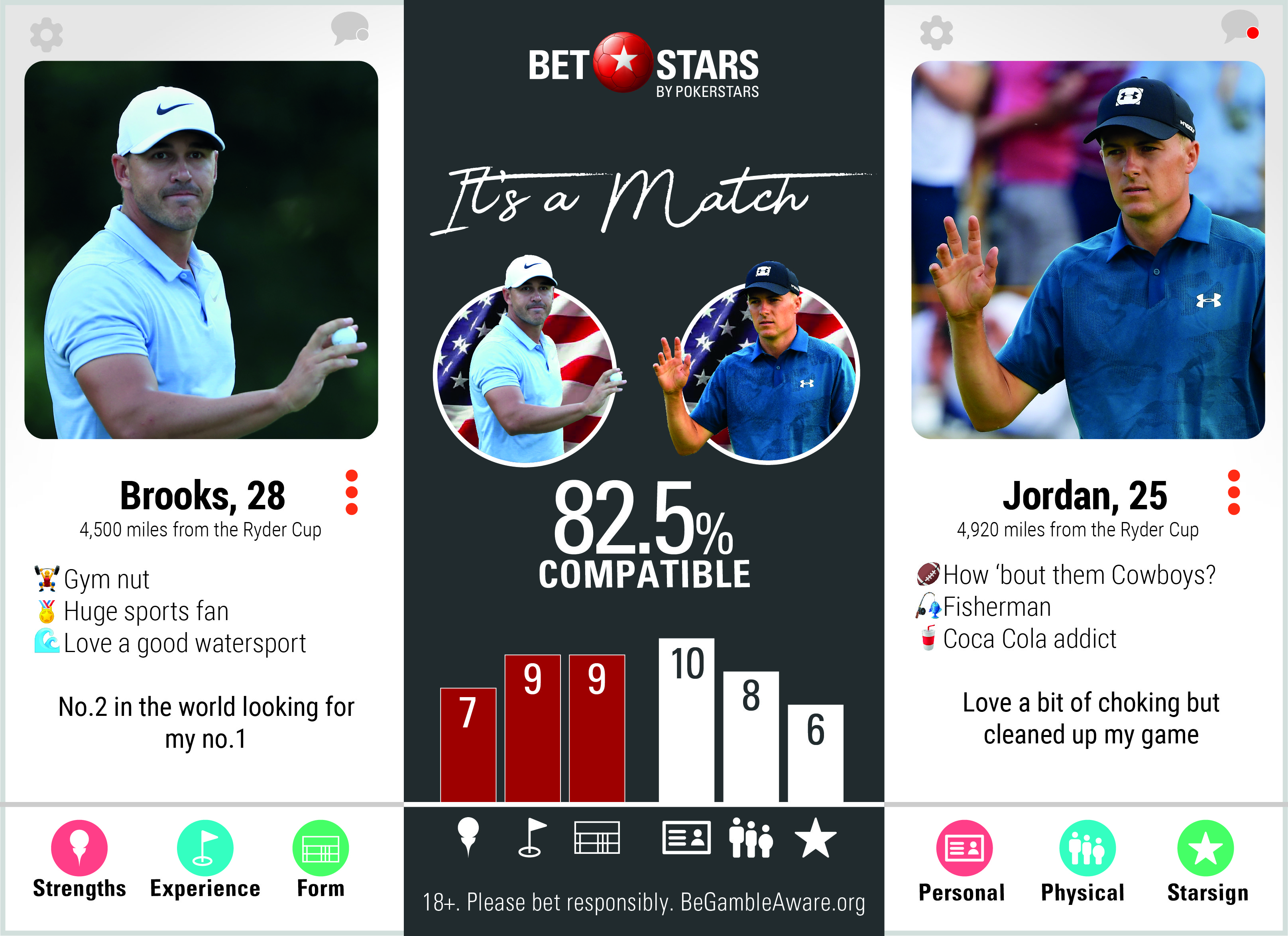 Between them they've been above average among their team-mates across driving, approach play and putting in PGA Tour events this season, and both have fared well in their previous Ryder Cup appearances.
On a personal level both players love their sport - basketball in particular - and appear to be embracing the child-free lifestyle.
Dustin Johnson and Webb Simpson
A combination of Dustin Johnson and Webb Simpson could pay dividends given how well they balance each other's strengths and weaknesses.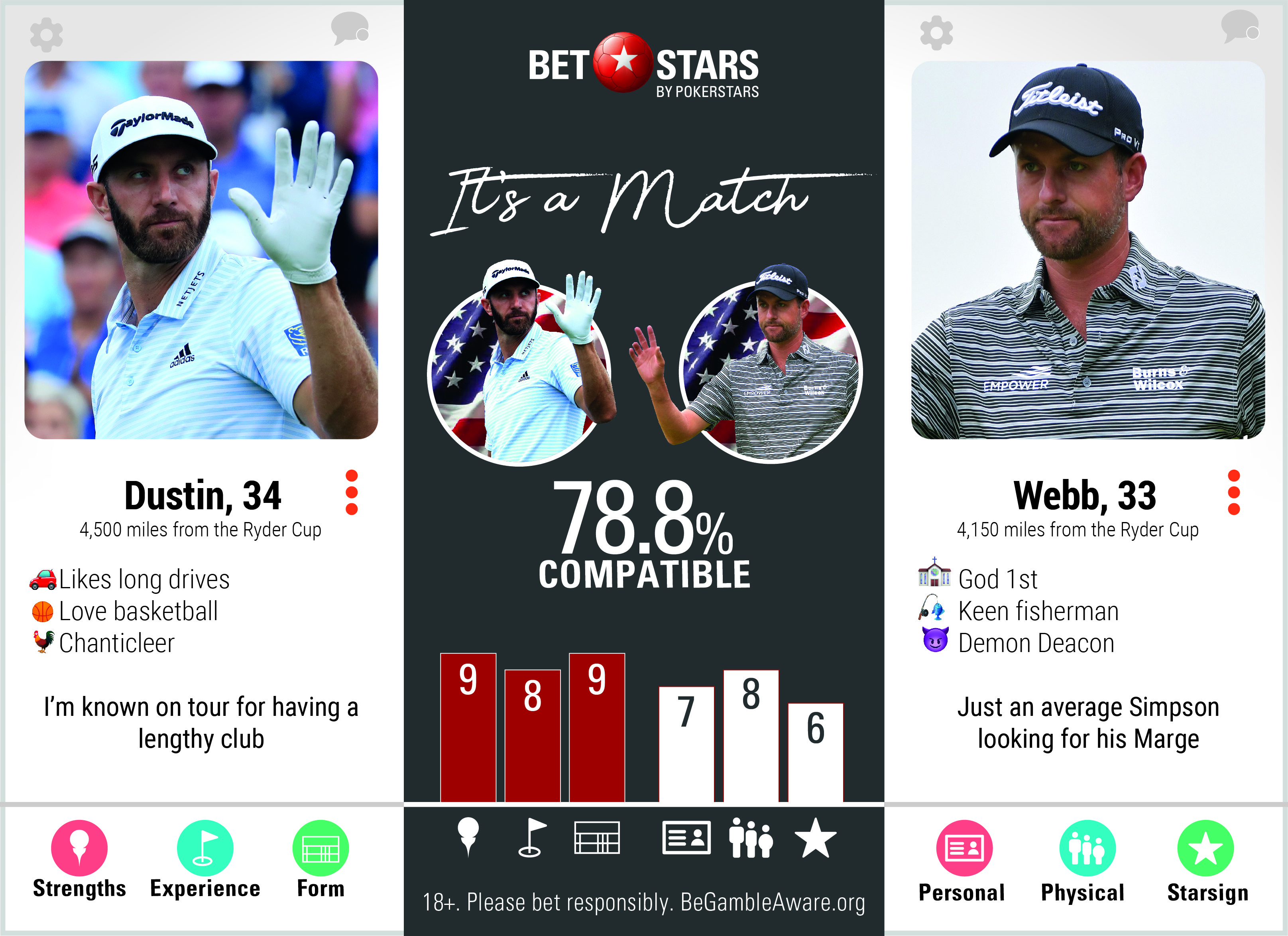 Simpson's impressive driving accuracy compensates for Johnson's relatively erratic aim from the tee, while the latter leads the American team in putts per GIR and can therefore steer any wayward attempts from his partner in the right direction.
With both hailing from one of the Carolinas and being of similar height and age, they should feel comfortable around each other for long stretches in the French sun.
Rickie Fowler and Jordan Spieth
Spieth would also work well alongside Rickie Fowler in a foursomes pairing, with both leading the way among their team-mates in one aspect of the game on this year's PGA Tour - Fowler had the highest driving accuracy while Spieth's putts per GIR is the lowest.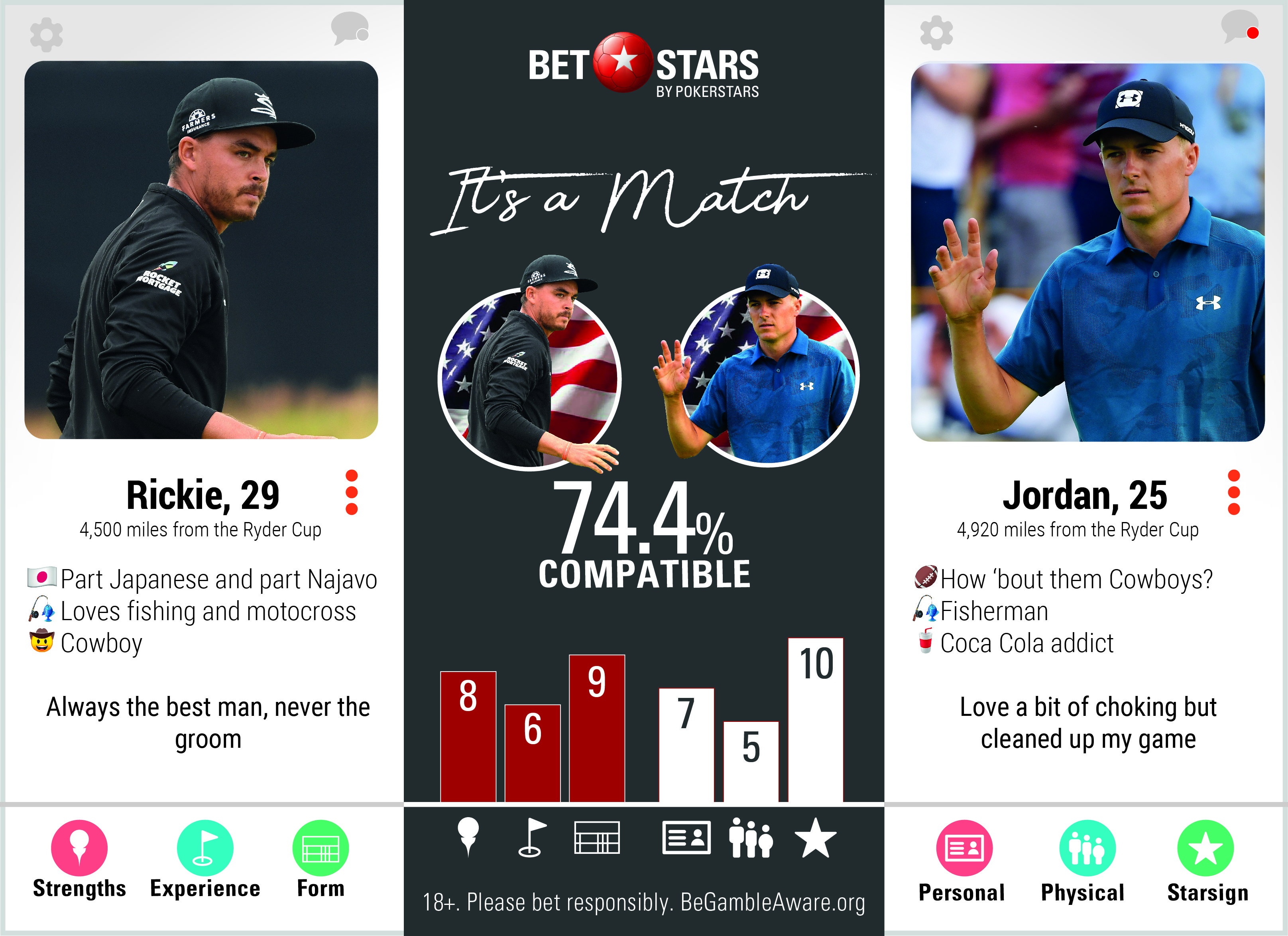 Both players are partial to a spot of fishing, suggesting similar temperaments, and they're also an excellent match astrologically (if you believe in that sort of thing). A Sagittarius and Leo respectively, both are fire signs which are said to generate a warm love when paired together.
Pairings to avoid
Letting the resurgent Tiger Woods loose on the course alongside the combustible Patrick Reed would be a recipe for disaster. Even ignoring their notorious trash-talking incident at the 2016 tournament, their prior experience at the Ryder Cup is the only thing this combination has going for it.
Both have struggled relative to their team-mates when it comes to hitting the green and they don't offer much in the way of complementary strengths, plus they have very little in common.
A lack of both common ground and obvious synergy are good enough reasons to suspect that Woods would also be a poor choice of partner for Fowler, who himself should be kept well clear of Bubba Watson for similar reasons.